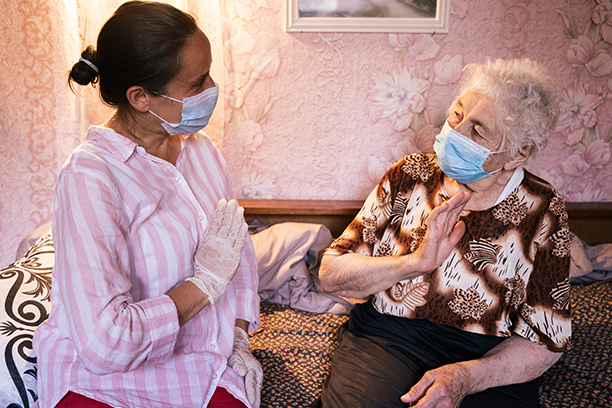 Professional Dementia Home Care Services

Professional Dementia Home Care
If you need professional dementia home care, Visiting Angels Punta Gorda is there to provide relief. Dementia is a collection of symptoms that affect many families across the country. Witnessing a loved one suffer from dementia is never easy. As their symptoms progress, they begin to lose the things that made them who they are. At Visiting Angels Punta Gorda, we understand the hardships you and your family face which is why we are dedicated to providing compassionate dementia care that your loved one needs.
The Importance of Dementia Care at Home
At Visiting Angels Punta Gorda, we understand how important it is to have dementia care at home. When a loved one has dementia, transitioning to a care facility can be difficult. The change in environments and the people around them can cause serious cases of anxiety and panic attacks. At Visiting Angels, we seek to help your loved one remain comfortable in their surroundings.
Our compassionate caregivers will travel to your home to ensure that your loved one will be at their most comfortable. Being in familiar environments, surrounded by people they recognize can greatly improve their quality of life.
Memory Home Care Services
The biggest advantage of choosing Visiting Angels Punta Gorda is having a dedicated caregiver who will provide personalized memory home care. We understand that every family has their own set of unique needs and challenges. With Visiting Angels, your loved one will have our full attention. Having a dedicated caregiver allows us to provide the care that your loved one truly needs and also enables us to make the necessary accommodations to our memory care services as your loved one's needs change over time.
With our full attention, we can assist your loved one in:
Wandering Prevention and Monitoring
Medication Reminders
Walking Assistance and Fall Prevention
Dressing and Personal Hygiene
Meal Preparation
Transportation to Appointments
Companionship
And much more
Getting Started with Visiting Angels Punta Gorda
At Visiting Angels Punta Gorda, we understand how challenging it can be to transport a loved one with dementia. That is why we make it easy for you and your loved one by having one of our service coordinators travel to your home for a free consultation. We will spend our time getting to know you and your loved one. We can speak with your loved one, their physicians, and family caregivers to understand the specific challenges you and your family faces. From there, we will develop a personalized plan of care that will satisfy every need.
Serving Punta Gorda and the surrounding communities, if you are interested in our at-home dementia care services and would like to schedule a consultation, or if you want to learn more about Visiting Angels Punta Gorda, contact us today or dial 941-347-8288 to speak with our Punta Gorda office and 239-226-1620 to speak to our Cape Coral office.
Serving Punta Gorda, North Fort Myers, Boca Grande, Cape Coral, Sanibel, Captiva, Arcadia and Surrounding Areas
Visiting Angels PUNTA GORDA, FL
25166 Marion Ave #114
Punta Gorda, FL 33950
Phone: 941-347-8288
A Florida employee based Home Health Agency, FL Lic # 299994657