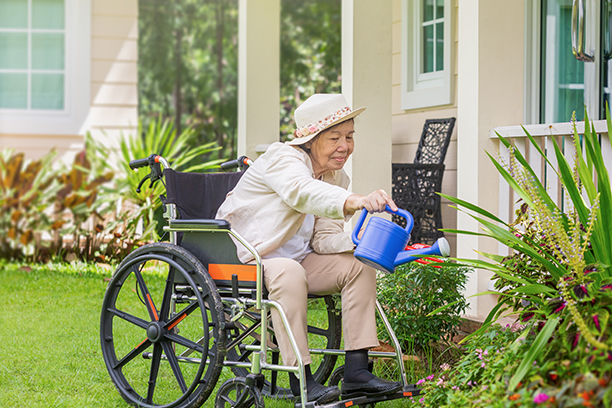 Parkinsons Care in Raynham, MA and the Surrounding Area
If you have an elderly loved one who lives in the Raynham, MA area that has been diagnosed with Parkinson's, the caregivers from Visiting Angels of Raynham can help you understand the disease and its symptoms, as well as ensure your loved one is given the Parkinson's care they need to stay safe and healthy.
Parkinson's disease is a neurodegenerative disorder, meaning that it affects your loved one's brain. The symptoms of this disease may be subtle to begin with, but over time Parkinson's can affect your loved one's mobility and mental functioning.
Symptoms of Parkinson's Disease
In order to get your loved one the right care, it's important you understand the symptoms of Parkinson's Disease. Some of the most common symptoms include:
Mobility Loss.

Parkinson'smay begin with a stiffness in the limbs and over time can lead to difficulty walking or standing.

Tremors.

Tremors are common in Parkinson's patients. They may start on one side of their body and increase over time, making it difficult to perform daily tasks.

Balance Problems.

Parkinson's can affect balance, making those with the disease more susceptible to falling.

Non-Mobile Symptoms.

In addition to mobility-related symptoms, depression, anxiety, trouble sleeping, a slowing of thoughts, and hallucinations and delusions are common as well.
How Parkinson's Care Helps Seniors in Raynham, Randolph, and Nearby Cities
The symptoms of Parkinson's disease can cause a number of complications that can put your loved one at risk. With the right Parkinson's care from Visiting Angels of Raynham, you can help your loved one in the Raynham area live safely and comfortably as the disease progresses.
At Visiting Angels of Raynham, we offer essential personal care that helps seniors in Randolph, Brockton, Middleborough, and the surrounding areas age in place. Some of the services we offer include:
Mobility assistance

Light housekeeping

Errand running and grocery shopping

Bathing, dressing, and toileting help

Transferring assistance

Transportation to therapies and appointments

Meal planning, preparation, and serving

Positive companionship and emotional support
These services can be modified and combined to ensure your loved one has the comprehensive Parkinson's care they need to maintain a high quality of life while remaining an involved member of the Raynham area community.
Call 774-501-3861 to give your loved one care that will help them live safely and comfortably.
Serving Abington, Avon, Berkley, Bridgewater, Brockton, Dighton, Halifax, Hanson, Holbrook, Middleborough, Plympton, Randolph, Raynham, Rockland, Taunton, Whitman, and Neighboring Towns
Visiting Angels
RAYNHAM, MA
473 S St W #18
Raynham, MA 02767
Phone: 774-501-3861
774-501-3923