In Home Care in Redding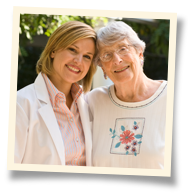 The past year has brought many trials and tribulations for seniors. Among these concerns is a significant increase in isolation. If you have a parent or grandparent who's experiencing loneliness, having an in home care professional can help to mitigate these feelings. At Visiting Angels® Redding, we've brought joy, comfort, and companionship to seniors across the region.
We understand isolation is so much more than just an unpleasant feeling. Loneliness can have enormous effects on the overall quality of life and condition of seniors. Here's how we can help.
3 Common Effects of Loneliness For Seniors
For people of every age, social isolation can have a profound impact on physical and mental health. That's especially true for seniors. At Visiting Angels Redding, our in home care professionals can minimize many of the consequences of loneliness:
Less physical activity. Social events can be a great excuse for seniors to move around and stay active. With a decrease in these activities, you'll also find a decrease in overall physical activity. This can put seniors at greater risk for falls and other accidents. We help our clients keep up stamina and strength, accompanying them on walks and encouraging other activity.
Greater stress and anxiety. Seniors who see less of friends and family often experience higher stress levels and frequent episodes of anxiety. We help to alleviate those moments. Having frequent contact with a trusted person like a caregiver can make an enormous difference. Our care professionals are engaged and outgoing, offering conversation and emotional support to ease anxiety.
A decline in overall cognition. While many seniors are at risk for dementia or other memory disorders, frequent periods of loneliness may quickly trigger cognitive decline. We make sure our clients have plenty of opportunity for mental stimulation. We can even help seniors get online, so they can write to loved ones, video-conference with grandchildren, and more.
Support Your Loved One With In Home Care in Redding
Our in home care agency offers a wide range of support services to seniors across the region, including:
Redding
Shasta Lake City
Palo Cedro
Anderson
Cottonwood
Red Bluff
Yreka
Mt. Shasta
And throughout the surrounding areas
We help clients stay socially active while living at home. Whether your loved one needs assistance with daily housekeeping tasks or they need more intensive support, we'll make sure they're looked after.
Get comprehensive in home care services for those you care about. Call Visiting Angels Redding to schedule a consultation today.