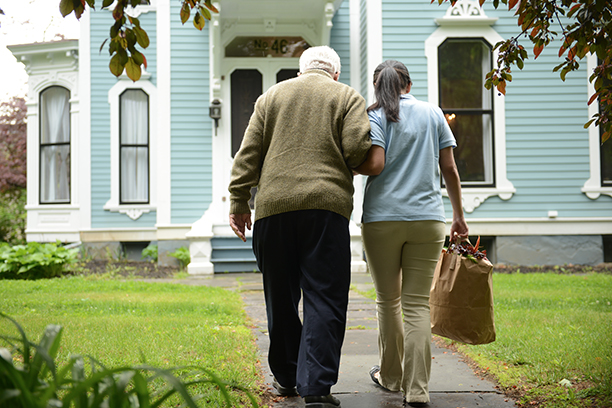 Home Care in Corning
Home care makes it possible for seniors in the Corning area to have the chance to continue living at home and in the community they love. At Visiting Angels® Redding, we offer a range of services that facilitate aging in place for local seniors. Our care gives seniors compassionate support that makes living fully, comfortably, and independently a reality, even as the years go by.
It's clear that home is where the heart is for all ages, and your loved one may be quick to tell you that home is where they want to be for the long run. That's why the caregivers at our agency are so proud to be able to give seniors the gift of remaining in their homes.
Through care that is held to high standards and includes crucial social and emotional components, we have been able to earn the trust and feel the gratitude of families located in:
Corning
And the surrounding areas
Not only are we a locally owned and operated senior care provider, but we also employ a talented team of care professionals available day and night to make seniors' lives better and their family caregivers' lives easier. Our team members have passed through a criminal background check and other strict requirements in addition to meeting our criteria for the delivery of kind, loving, and respectful care.
About Our Home Care in Corning
If nagging concern about a family member who is living independently is weighing you down, home care can relieve you of this burden while making your loved one's day-to-day safer. Whether they need help occasionally or at all hours, we can be of assistance. Our flexible services offer support with:
Medication prompts
Bathing or showering
Dressing and grooming
Minor chores in the home
Mobility, walking, and transferring
Using the restroom
Going grocery shopping
Running errands in the Corning area
Covering for family caregivers
Offering joy-filled companionship
About Our Personalized Approach to Home Care
To achieve our goal of fully supporting both you and your loved one, we will develop a detailed plan of care designed around their specific situation. Getting to this end result requires a few simple steps:
A call to our local team. Give our office a quick call to ask general questions about our services and inquire about a free consultation.
An in-home consultation. We will then visit your loved one's home for an in-depth meeting and discussion about their current abilities, challenges, preferences, and daily concerns. We'll also check in with you about your needs as their family caregiver.
Customized care plan creation. All of the information gained in the previous step will be used to build the care plan that will include the variety of services your loved one needs at this time in their life.
Introduction to the caregiver. We'll determine the best care match for your family and introduce you to your loved one's new caregiver.
Regular communication. From the start of your loved one's care, we'll communicate with you regularly to make sure you both feel comfortable with the care process.
More About Our Services in Corning
Here's a quick rundown of some of the service types available.
What is Personal Care?
If you've recently noticed that your loved one's pantry is bare or they seem to be having trouble with managing their normal grooming routine, they could benefit from personal care. As part of these services, caregivers assist with meal preparation, bathing and grooming, laundry and other chores, mobility, and a range of other daily activities.
How Can Respite Care Help?
Respite care helps lower the ever-present concern of burnout, which often plagues family caregivers. If you've realized that you are devoting the bulk of your time and energy to helping a loved one, you may be neglecting other areas of your life. Respite care can help you have time to take care of yourself and take a rest without guilt.
When is Palliative Care the Right Choice?
Palliative care is an option available for anyone dealing with a significant health problem. Through the holistic approach of these services, our caregivers provide support of a physical, social, emotional, and spiritual nature to help the care recipient find a new outlook on life.
What is the Goal of Transitional Care?
When elderly adults get home from a hospital stay, the first month is fraught with a heightened risk of readmission. Transitional care, which is provided through our Ready, Set, Go Home program, is designed to support seniors during this window of time and lower their chances of having to go back to the hospital with complications.
Is Fall Prevention Available?
We make fall prevention services available through our Safe & Steady Fall Prevention program. As falls are such a serious risk for older adults and can deeply affect their independence, prevention should be key to a long-term aging in place strategy. This program comprises a fall risk assessment, mobility support, and custom recommendations to promote safety and security as your loved one lives at home.
What are Companion Care Services?
When seniors feel isolated, it's not only their emotional well-being that's at risk. They may experience poorer health overall due to the effects of senior isolation. Companion care makes sure seniors have access to companionship and the listening ear of a loving caregiver, along with some support with day-to-day activities.
How Does Social Care Help Seniors?
Social care focuses on helping seniors become more fluent in technology, giving them access to communication tools they can use to keep up with their loved ones and expand their social circles.
Get Started with Home Care in Corning Today
There's no time like the present to learn more about your loved one's home care options in the Corning area. If you'd like to set up a free consultation, call (530) 223-2400 today to connect with our team at Visiting Angels Redding!
Serving the Valley & Mountain Communities of Shasta, Tehama & Siskiyou Counties, California
Visiting Angels
REDDING, CALIFORNIA
3050 Victor Ave #B
Redding, CA 96002
Phone: 530-223-2400
Fax: 530-223-4465
HCO #454700006