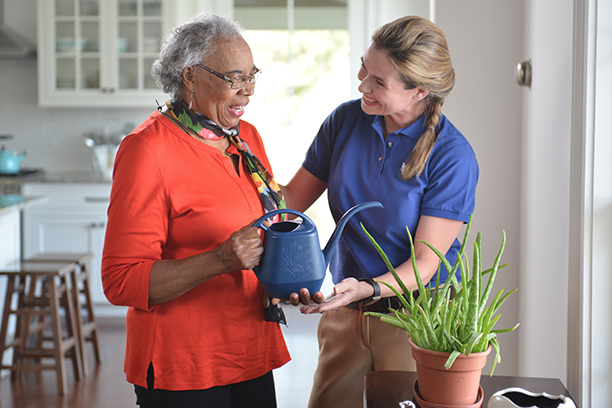 Affordable Home Care in Redwood City
Are you worried that affordable home care will be hard to find? The team at Visiting Angels® Redwood City is excited to let you know that customized home care within your family's budget is just a phone call away. We pride ourselves on delivering care that makes a positive difference in seniors' lives and also helps their loved ones maintain peace of mind. Most importantly, we believe it is crucial for us to keep our care visits within a manageable price range to ensure elderly adults across our community can access the professional help they need to age in place.
Customized and Affordable Home Care
The first step in arranging affordable home care is creating a care plan customized to the senior's needs, preferences, and budget. Having a tailor-made care plan is vital as it ensures care fits seamlessly into the senior's life and financial situation in the Redwood City area. In the long run, this makes care more effective and helps care recipients remain where they feel most at ease for longer.
Our care coordinators are experts in senior care and can build a care plan that is carefully individualized to your loved one's specific circumstances, including their budget. We'll also take your needs into account as a family caregiver. You'll have the chance to schedule care visits whenever you feel you could use a break from your duties or when you know your loved one will need a helping hand.
Here are some examples of our flexible care schedules:
Ongoing daily, weekly, or monthly care visits
Daytime or evening care visits
Weekday and weekend care visits
Care on specific holidays
Overnight support with care needs
24 hour or live in assistance
Keeping Home Care Affordable in Redwood City
We'll lay out our recommendations for your loved one's customized home care program during a no-cost, no-obligation care consultation. Then, we'll outline the costs that can be expected with such a care plan. Generally, the cost of care depends on the care recipient's needs, how often their caregiver is set to visit, and the length of these care visits. During your free consultation, we'll address all of your family's concerns and provide any additional information you need to have confidence about proceeding with care.
Get started with affordable home care you can trust today. Call Visiting Angels Redwood City to request a free consultation in Redwood City, Emerald Hills, Menlo Park, Palomar Park, Atherton, Portola Valley, West Menlo Park, Woodside, or a community in the nearby areas.
Serving the San Jose, CA Area
Visiting Angels
REDWOOD CITY, CALIFORNIA
611 Veterans Blvd #114
Redwood City, CA 94063
Phone: 650-777-9000
HCO #434700011