Senior Care in Renton: When You Feel Guilty Asking For Help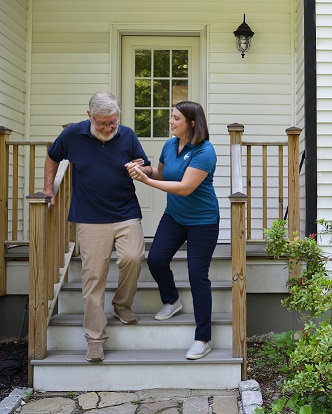 If you're considering care for your loved one but feeling guilty about taking the next step, we have some important insights to share. As the area's leading in-home provider of senior care services, Visiting Angels® Renton is intimately familiar with this common issue. We find it's important to examine a few underlying beliefs that may be based on faulty reasoning and are actually damaging in the long run.
A Reasonable Look At Caregiver Guilt
The dutiful caregiver. Having a strong sense of duty towards your loved one is a commendable and admirable character trait–but only up to the point where your own mental, emotional, and physical health are put in jeopardy. The bottom line is what kind of care are you even delivering when you are running on fumes, and what would happen to your loved one if you burn out and wind up hospitalized yourself?
The reluctant senior. If your loved one is not keen on the idea of having a "stranger" in the house, you might naturally feel guilty pressing the issue. It's important that you explain to your loved one that this is something you really need in order to continue providing care yourself. Also, remember that professional caregivers like ours are trained to come into situations like this every day and put seniors and families at ease.
How Our Senior Care Can Help
At Visiting Angels Renton, our team of caring and compassionate professionals will work with you to create a fully customized and personalized plan for in-home care to provide much-needed relief and an improved quality of life for both you and your loved one. Here are some of the most important facts about our senior care:
Our caregivers have all been thoroughly vetted and interviewed. We look for candidates who display high levels of integrity, empathy, and patience, as well as experience in senior care.
We offer hourly rates and flexible payment options which make our services widely accessible.
Our caregivers are available from as little as a few hours a week to 24/7 care, if needed.
We match your loved one with a caregiver who not only can meet their needs, but whose personality and temperament will be a great fit.
We can help with a wide variety of common (and some not so common) senior needs, including:

Meal planning and preparation
Medication reminders
Safe transportation and company attending appointments or social activities
Incontinence issues
Dignified personal bathing and grooming assistance
And much more

We use our Life Care Navigation™ system to personalize your loved one's care by pulling from one or more of our full line of in-home care services.
Senior Care Services For the Renton Area
We proudly offer our highly-respected services to families throughout Renton, Seattle, Kent, Issaquah, and the surrounding area.
Don't let unfounded and undeserved guilt prevent you from seeking out senior care for your loved one. Reach out to our caring and professional team at Visiting Angels Renton today and learn more about how we can customize a plan to meet your exact needs.