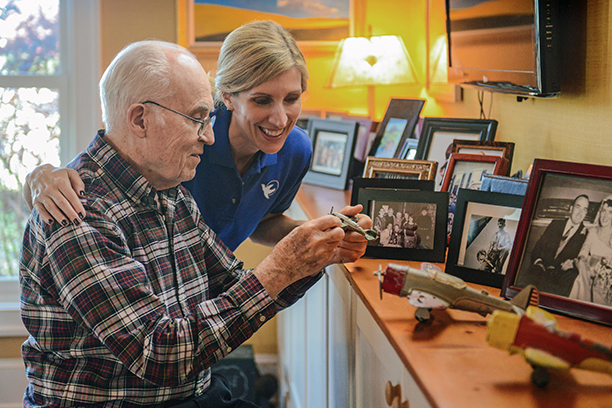 Cancer Care in Northridge, CA
Cancer Care in Northridge, CA
Cancer Care at Visiting Angels
Managing cancer can be a long, complex, and sometimes painful process, from diagnosis to treatment. Some of the most challenging moments are during and after chemotherapy or surgery.
Visiting Angels provides cancer care in Northridge, CA, to provide support as you undergo treatment. Our caregivers are experienced in caring for a variety of clients, managing their individual needs, and helping them live safely and comfortably. We collaborate with you and your family to build a system of compassionate, reliable cancer care in the environment that best suits your needs.
You don't have to face cancer alone. Call Visiting Angels to learn more about our cancer care in Northridge, CA.
Types of Cancer Patients We Care For
At Visiting Angels, we provide care for clients with a wide variety of cancers, from breast cancer to colon cancer and everything in between. We care for clients recovering from surgery and undergoing or recovering from chemotherapy.
Many of our caregivers are also certified in non-medical palliative care to help you or a loved one experience relief from the discomfort that often comes with managing cancer and going through treatment.
No matter where you are on your journey to recovery, Visiting Angels provides the best possible care.
Benefits of Cancer Care
Everyone experiences cancer differently, and the process is often stressful and exhausting. Treatments like surgery and chemotherapy take a toll on a person's mental and physical health. Most stages of cancer treatment also require vigilance and careful attention to detail.
Though in-home care isn't a requirement for a full recovery from cancer, it comes with a wide range of benefits. Visiting Angels cancer care ensures you always have a pair of helping hands nearby. Instead of managing both your treatment and your daily life, our caregivers can help you with both, relieving you of some of the burdens a cancer diagnosis brings.
You deserve to have an easy and peaceful recovery, and Visiting Angels is here to help make that desire a reality. Our in-home care professionals help you feel healthy, happy, and secure. They're trained to help you with everything from remembering to take your medications to dusting the high shelves.
Our Cancer Care Services
Whether you're just beginning cancer treatment or recuperating from an operation, the only thing you should have to focus on is your recovery. At Visiting Angels, we adapt our care to prioritize your comfort, health, and safety so you can do just that. We walk with you through the difficulties and challenges of cancer so you don't have to face them alone.
Visiting Angels' comprehensive cancer care services include everything from housekeeping to medication reminders. Our experienced, professional, and compassionate caregivers are here to help steward both your physical comfort and peace of mind.
Below are some of the most common cancer care services we provide in Northridge, CA.
Housekeeping
Your home should be a peaceful place where you can rest and heal, which can be difficult to maintain during cancer treatment. Some patients experience limited mobility and/or extreme fatigue, which can make chores like vacuuming and cleaning the dishes very challenging. Visiting Angels' housekeeping services ensure your home remains peaceful and clean while you recover from treatment or surgery.
Our housekeeping services include:
Laundry

Dishes

Emptying trash bins

Cleaning out the fridge

Sweeping, vacuuming, dusting, watering plants, and other daily chores

Cleaning and disinfecting toilets, showers, sinks, and countertops
Medication Reminders
During cancer treatment, doctors often prescribe patients a variety of medications to alleviate pain and other symptoms of cancer and cancer treatment. It can be challenging to manage multiple medications, especially when you're not at your strongest. Medication can be an essential component of cancer treatment, so we provide medication reminders to ensure you never miss a dose.
Transportation
Getting to your appointments on time is vital to cancer treatment, but the treatment itself may leave you unable to drive. It can also be demoralizing to be unable to attend social events and run errands like picking up your prescriptions. Our Visiting Angels cancer care specialists are here to drive you wherever you need to go, ensuring both your safety and your well-being.
Personal Care
General hygiene and physical maintenance can become even more important during cancer treatment. While it's essential to keep surgical wounds and ports clean, being able to bathe and feel fresh can go a long way toward supporting your mental health. Our caregivers are prepared to assist you with various personal care tasks, including showering, grooming, getting dressed, and using the bathroom.
Food Preparation
Treatment and recovery from cancer can leave you without an appetite, but getting proper nutrients every day can be essential to a complete recovery. In addition to personal care and housekeeping services, we offer food preparation services to ensure you meet your dietary needs.
Visiting Angels' experienced caregivers will collaborate with you to plan, prepare, and—if needed—feed you well-balanced meals tailored to your nutritional requirements.
Companionship
Companionship plays a key role in mental health, which is especially important to recovery during and after cancer treatment. Though treatment may require you to remain at home for extended periods, Visiting Angels is here to ensure you never feel lonely. In addition to caring for the practical aspects of your recovery, we also offer the comfort of companionship. Whether you want to play games, make crafts, or even just have a conversation, our caregivers are dedicated to making your recovery experience as pleasant as possible.
How Long is Cancer Care?
Visiting Angels provides both long and short-term cancer care. Whether you need us for a single week following a procedure, for the full duration of chemotherapy, or for your entire recovery process from beginning to end, we're here to provide compassionate and holistic cancer care.
No matter how long or short the duration of your care needs, Visiting Angels will be here to support you.
Areas We Serve
We provide cancer care throughout the San Fernando Valley, which includes all of Northridge, CA, and the following locations:
Chatsworth
Granada Hills
Lake Balboa
North Hills
North Hollywood
Porter Ranch
Reseda
Sepulveda
Sherman Village
Studio City
Sunland
Valley Glen
Valley Village
Van Nuys
Why Visiting Angels
For more than two decades, Visiting Angels has provided compassionate care to families across the United States. Our professional, compassionate caregivers provide the finest quality care so our clients can maintain their independence and dignity in a safe, comfortable environment. As a trusted name in-home care, we collaborate with you to provide care according to your schedule, treatments, personal preferences, and health needs. When you trust us to care for you or a loved one, rest assured you'll receive companionship and support dedicated to your mental and physical well-being.
Contact us today to learn more about cancer care in Northridge, CA. We look forward to helping you on the path to recovery.
Serving Reseda, Granada Hills, Porter Ranch, Sherman Oaks, North Hollywood and throughout the San Fernando Valley area
Visiting Angels
SAN FERNANDO VALLEY
17750 Sherman Way #310
Reseda, CA 91335
Phone: 818-206-8121
Fax: 818-742-6246
HCO #194700201