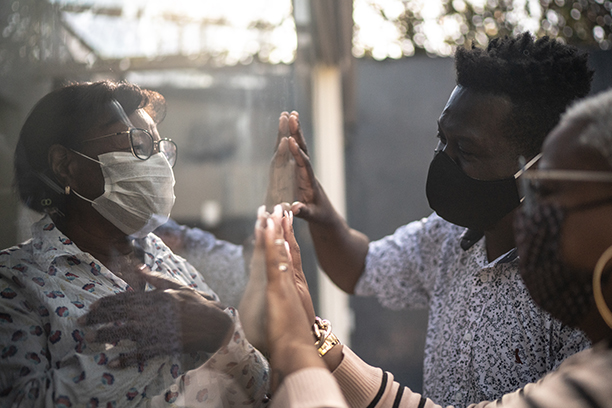 Cancer Care in Sherman Oaks, CA
Cancer Care in Sherman Oaks, CA
Cancer Care at Visiting Angels
Cancer is a condition that comes with many daily trials and tribulations, from exhausting treatments to symptoms that can be incredibly difficult to manage. Living with cancer can take a serious mental and physical toll on a person, and at Visiting Angels, we believe no one should have to cope with it on their own.
Visiting Angels provides cancer care in Sherman Oaks, CA to provide support for patients as they endure their cancer treatments. Our caregivers have experience caring for the unique needs of many clients, ensuring they're able to remain happy, healthy, and safe at all times. We're committed to working with you and your family to create an effective care plan delivered in the environment that best suits your needs.
If you don't want to undertake cancer treatment alone, call Visiting Angels to learn more about our available cancer care in Sherman Oaks, CA.
Types of Cancer Patients We Care For
The caregivers at Visiting Angels have experience caring for many different cancer patients, including those with breast cancer, lung cancer, and more. No matter what cancer you have or your current form of treatment, our caregivers will maintain your health and safety in your home or wherever else you may reside.
Benefits of Cancer Care
Cancer treatment can be a lengthy and delicate process, with many things to remain cautious of between diagnosis and recovery. Some patients may require surgery, while others will need treatments like chemotherapy, all of which can place a significant amount of strain on a person's overall well-being. In any situation, it's vital to remain patient and wary during every stage of cancer treatment.
While it's possible to manage and recover from cancer without the help of in-home care, Visiting Angels' support system has various benefits. Cancer can make people feel lonely and vulnerable; that's why our goal is to deliver care that makes you feel safe and secure. Our cancer care guarantees you always have a pair of helping hands nearby, so you never have to worry about moving through life with cancer alone.
With our in-home care, you receive the support you need from the comfort of your home. Our skilled in-home caregivers are trained to assist you with many daily activities, so you don't have to worry about placing any undue strain on your body. You deserve to rest as much as you require while managing your cancer symptoms and treatment, and we're prepared to work with you and your family to make sure our cancer care covers all of your needs.
Our Cancer Care Services
Cancer can impact a person's health in unpredictable ways, so we make sure our cancer care is flexible and adaptable. Whether you're managing breast cancer or lung cancer, you can rely on our caregivers at all times. We're here to support you through every phase of your cancer treatment and recovery, so you never have to feel like you're going through it alone.
At Visiting Angels, your health and comfort are our top priorities. That's why we do whatever it takes to provide comprehensive cancer care services, so the only thing you have to worry about is making a full recovery. From housekeeping to companionship, our expert caregivers have you covered.
Below are some of the most common cancer care services we offer in Sherman Oaks, CA.
Housekeeping
When you're recovering from any kind of medical treatment or operation, it's important to have a functional space that can facilitate your full recovery. Cancer treatment can be a tiring experience that leaves some patients with limited mobility, making daily housekeeping chores more taxing than they were before. Our housekeeping services ensure you never have to worry about straining yourself just to keep your home clean.
Our housekeeping services include:
Vacuuming, sweeping, dusting, watering plants, etc.

Emptying garbage

Dishes

Cleaning out the fridge

Cleaning and disinfecting toilets, showers, sinks, and countertops

Laundry
Medication Reminders
When someone is undergoing cancer treatments, they often have to take multiple medications to manage their condition. These medications can be difficult to keep track of for some people, and that's why we provide medication reminders, so you never miss a dose.
Transportation
If you're unable to drive due to your cancer treatments, it's best to have another person handle your transportation needs. Attempting to drive before or after cancer treatment can be hazardous for you and other motorists, and it can potentially cause complications to your recovery. That's why our cancer care specialists provide transportation services to take you wherever you need to go. Visiting Angels will bring you to any medical appointments, prescription pick-ups, social events, errands, and more.
Personal Care
Every aspect of your health is important to us, including physical maintenance and general hygiene. In addition to keeping any ports or surgical wounds clean, our caregivers are prepared to assist you with various personal care tasks. These services include showering, grooming, using the bathroom, and getting dressed.
Food Preparation
In addition to our personal care services, Visiting Angels provides food preparation so you can get all of the nutrients you need during your cancer treatment. Some patients may have a reduced appetite or forget to eat during recovery, but maintaining a well-balanced diet can be a crucial aspect of the recovery process. Our professional caregivers can work with you to plan, make, and potentially feed you healthy meals that satisfy all of your dietary requirements.
Companionship
Cancer treatment can be very isolating, as it often requires patients to stay alone in their homes for extended periods of time. Visiting Angels can help by providing companionship services, so you always have someone to talk to and spend time with during recovery. Whether you want someone to watch television with, play games, or just have a conversation, our caregivers are here to show you compassionate care.
How Long is Cancer Care?
Although many people undergo cancer care for a considerable amount of time, Visiting Angels also provides flexible short-term care to fit your unique needs. Our Caregivers can provide care for the duration of your chemotherapy, but if you just need someone to help you get acclimated to the first few rounds, we can still help. We can also provide support following any surgical procedures, whether you need help around the house for a few days or multiple weeks. No matter how severe your situation is, Visiting Angels provides comprehensive, quality care.
Areas We Serve
We provide cancer care in the San Fernando Valley, which includes the following locations:
Chatsworth
Granada Hills
Lake Balboa
North Hills
North Hollywood
Porter Ranch
Reseda
Sepulveda
Sherman Village
Studio City
Sunland
Valley Glen
Valley Village
Van Nuys
Why Visiting Angels
Visiting Angels has been the preeminent name in-home care for over twenty years. We provide personalized care that's made to fit your schedule, surgery, personal preferences, and health needs. Our experienced and compassionate caregivers prioritize your safety, health, and comfort over everything else to ensure you can complete your recovery without any complications. When you trust us to care for you or a family member, you get the trust and support of people dedicated to every element of your well-being.
To talk to our team about cancer care in Sherman Oaks, CA, contact us today. We look forward to helping you towards a healthier and happier life.
Serving Reseda, Granada Hills, Porter Ranch, Sherman Oaks, North Hollywood and throughout the San Fernando Valley area
Visiting Angels
SAN FERNANDO VALLEY
17750 Sherman Way #310
Reseda, CA 91335
Phone: 818-206-8121
Fax: 818-742-6246
HCO #194700201