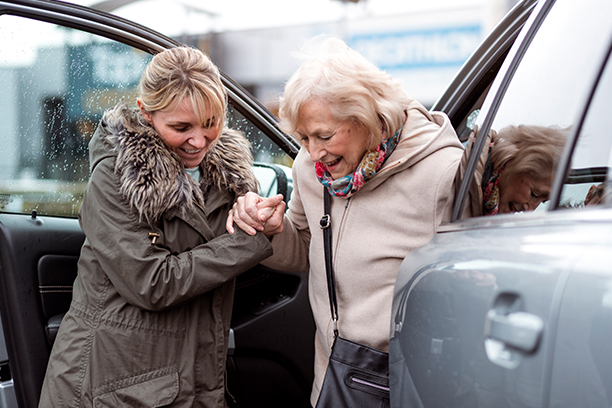 Cancer Care in Tarzana, CA
Cancer Care in Tarzana, CA
Cancer Care at Visiting Angels
Cancer treatment can be confusing and scary, but with Visiting Angels by your side, it doesn't have to be.
If you or a loved one are suffering through cancer treatment, take advantage of the many resources and benefits a cancer care agency offers. You deserve safety and comfort, surrounded by a team of caregiving professionals dedicated to compassionate care.
Visiting Angels is the premier agency for cancer care in Tarzana, CA. Our world-class staff is composed of uniquely skilled, medically-licensed caregivers ready to service their patients with compassion. Our coordinated care protocols are designed to provide maximum comfort and safety for all cancer patients.
For more information on our cancer care services and to see how Visiting Angels can make your cancer journey as comfortable and safe as possible, contact us today for a free consultation!
Types of Cancer Patients We Care For
Visiting Angels cares for all varieties of cancer patients. We coordinate care with your current healthcare physicians in crafting a plan of action. We handle caregiving for patients that suffer from the following (not an exhaustive list):
Colorectal Cancer
Pancreatic Cancer
Bladder Cancer
Breast Cancer
Cervical Cancer
Gynecological Cancer
Liver Cancer
Kidney Cancer
Skin Cancer
Lung Cancer
and more
Benefits of Cancer Care
Cancer is a complex disease. With multiple body systems usually affected by tumors and cancerous growth, patients need several medications multiple times a day and sometimes in addition to IV treatments and other life-saving measures. What results is a complicated schedule of medication management, transportation, and treatment that can make daily life tedious and tasking.
Our cancer care services alleviate the constant pressure on in-home caregivers or those caring for themselves. Cancer patients can rest assured they're receiving a higher standard of care with Visiting Angels, which allows them to focus on rest and recovery.
Our Cancer Care Services
We understand better than most cancer care agencies the unique and dynamic conditions that cancer enforces. No two cancer patients go through the same experience. It's with this important factor in mind that we designed our cancer care services to maximize our skilled caregivers' time and resources so you get the exact care you need.
Housekeeping
Our housekeeping services keep the home neat and organized, promoting healing and serenity. Housekeeping helps facilitate the healing process as clutter can provide unneeded stress. Trying to complete these tasks during recovery can be dangerous.
By keeping your home clean and free from any health hazards and obstacles, you'll enjoy a greater sense of calm while your body receives support in the fight against cancer.
Medication Reminders
Medication is one of the most important daily tasks for a cancer patient. In most cases, taking daily medication is the primary line of defense against cancer growth, so it cannot be understated how staying on top of your cancer medication is vital to recovery.
Visiting Angels prioritizes medication management by working with primary physicians and family doctors to help patients build a regular routine around their medication. We'll make sure you get the medication you need because your health is our passion.
Transportation
Medical appointments, dinner dates, and social events are just a few of the activities that our skilled caregivers are certified to handle. Simply schedule your ride with your Visiting Angels caregiver, and they'll ensure you get to your destination as safe and secure as possible.
When it comes time for pickup, you can rest easy knowing our transportation services will be there waiting to take you back home, safe and sound.
Personal Care
Personal care services cover a variety of hygiene and grooming duties, including bathrooming, bathing, and light physical appearance maintenance. Personal care also includes wound management duties like cleaning open sores and maintaining clean and clear ports. Our goal with personal care services is to enhance your confidence, dignity, and self-love.
Food Preparation
In addition to personal care services, our Visiting Angels caregivers are certified and trained in light culinary responsibilities like preparing and cooking meals. We ensure you stay well-fed with nutritious meals featuring a wide variety of flavors. When you're finished eating, we'll clean up and help facilitate your post-meal routine.
Companionship
Sometimes, a cancer patient just needs a helping friend. At Visiting Angels, we empathize with the loneliness and constant emotional (and physical) pain you're enduring. Companionship services are specially designed to help cancer patients retain a higher quality of life from sunrise to sunset every day.
Companionship services see one of our uniquely qualified in-home caregiving specialists walk you through your daily routine. They'll join you in a board game, a stroll in the park, social events, and more. The result is a standard of living beyond your expectations.
How Long is Cancer Care?
Visiting Angels provides long-term and short-term cancer care for those struggling to maintain a high quality of life or just need additional help during cancer treatment. As cancer is a dynamic, ever-evolving situation for every patient, no two cases are the same. That's why we stress the importance of speaking with your healthcare providers in assessing just how much help you may need and for how long you may need it.
Whether you have short or long-term care needs, we can comply with your request. Our licensed caregivers are ready and standing by no matter the length of time requested.
We're more than well equipped to handle a large variety of cancer cases, so please call our caregivers to learn how we can best serve your specific condition. Our services can be mixed and matched and catered to your case.
Areas We Serve
Visiting Angels provides cancer care in Tarzana, CA as well as the following locations:
Chatsworth
Granada Hills
Lake Balboa
North Hills
North Hollywood
Porter Ranch
Reseda
Sepulveda
Sherman Village
Studio City
Sunland
Valley Glen
Valley Village
Van Nuys
Why Visiting Angels
For over two decades, Visiting Angels has championed in-home cancer caregiving services in Tarzana and surrounding California regions. Our passion lies in enhancing the cancer caregiving industry's standard of care. By using cutting-edge training techniques and education modules, our caregivers are certified and qualified to provide a higher quality of life for those suffering from this grave disease.
Speak with one of our certified cancer caregiver specialists today and discover how Visiting Angels can hold your hand through the cancer recovery journey.
Serving Reseda, Granada Hills, Porter Ranch, Sherman Oaks, North Hollywood and throughout the San Fernando Valley area
Visiting Angels
RESEDA, CA
17750 Sherman Way #310
Reseda, CA 91335
Phone: 818-206-8121
Fax: 818-742-6246
HCO #194700201