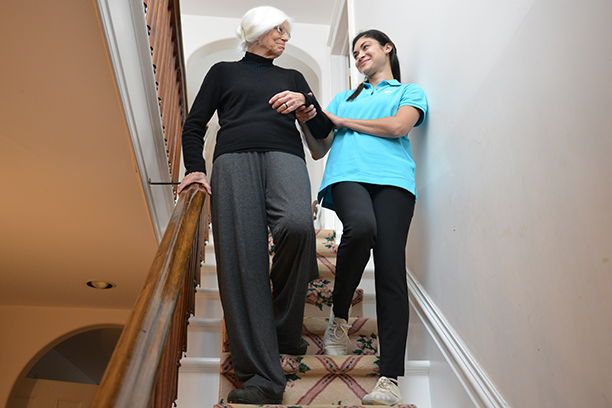 Home Care Agency Lake Balboa, CA
Personalized Home Care at Visiting Angels
Visiting Angels is the trusted home care agency in Lake Balboa, CA. We provide care for everything from Alzheimer's and dementia to post-COVID conditions and even supplemental hospital care. Our goal is to help our clients retain their independence in their own home—no matter what condition they're managing.
To learn more about how we can provide you with personalized home care, contact our home care agency in Lake Balboa to schedule a free consultation.
Why Choose Visiting Angels
At Visiting Angels, we understand remaining independent at home can be a major contributor to a person's well-being. For more than 20 years, we've provided non-medical home care focused on dignity, respect, and keeping clients safely at home. We're dedicated to providing care that not only helps you function but also helps you thrive.
Our caregivers can assist with:
Meal planning and preparation

Light housekeeping

Personal hygiene like dressing, bathing, and grooming

Toileting and incontinence care

Mobility assistance

Transportation

Running errands

Medication reminders

Conversation and companionship

…and more
Our Home Care Services
Visiting Angels in Lake Balboa, CA, is ready to provide world-class home care services to adults with physical and mental limitations associated with advanced aging and medical diagnoses. Our team of skilled and licensed caregivers provides care with empathy, respect, and regard for your holistic well-being.
Below is more information about some of the services we offer. If you or a loved one is managing one or more of these conditions at home, call us today to schedule a free consultation. We'll come to your home to assess your needs and deliver superior care to keep you safe and comfortable in your own home.
Alzheimer's & Dementia Care
Degenerative conditions like Alzheimer's and dementia often severely impact individuals' cognitive functions like language skills and memory. Individuals with these conditions may develop a tendency to wander, hallucinate, refuse assistance with tasks, and even forget who their loved ones are. Drastic changes in brain function may alter a person's personality or memory and cause unpredictable mood swings.
Managing these conditions can be emotionally taxing for family caregivers, leaving them mentally and physically drained. Our skilled caregivers are trained to handle these situations, offering respite to family caregivers. We're experienced in navigating these challenges and providing Alzheimer's and dementia clients with gentle-yet-professional care.
Post-Op Care
Rest and proper aftercare are essential to safely and completely recuperate from medical procedures and operations. However, it can be difficult to relax if your mobility and ability to steward your own comfort are limited.
Visiting Angels' home care specialists are equipped to care for post-op patients of all kinds. From emergency surgery to cosmetic procedures, we'll be there to help you remain safe, clean, and comfortable while you recover. We'll also help you follow your doctor's aftercare instructions so you can heal as quickly and thoroughly as possible.
Post-COVID Care
Post-COVID conditions are medical conditions that seriously impact an individual's health long after the COVID-19 virus has run its course. The appropriate care and rest are vital to managing and recovering from these conditions. Visiting Angels provides post-COVID care to give you the support you need during such a difficult and stressful time.
Cancer Care
As one of our most frequently requested services, our goal in cancer care is to help our clients remain as comfortable and low-stress as possible. Our skilled and compassionate caregivers provide unparalleled care for people experiencing cancer care and treatment. Whether you need us short-term to recover after medical treatment or during the entire length of your journey, we've got you covered.
Hospital Caregivers
Hospital workers have been in short supply since the beginning of the COVID-19 pandemic and struggle to care for all of their patients—and themselves. Visiting Angels in Lake Balboa, CA, provides hospital caregiving services to supplement the professional medical care you're already receiving. Though we specialize in-home care, our services can begin in hospitals or other medical facilities.
Areas We Serve
In addition to Lake Balboa, CA, Visiting Angels provides high-quality home care services to the following regions in California:
Chatsworth
Granada Hills
Lake Balboa
North Hills
North Hollywood
Northridge
Pacoima
Porter Ranch
Reseda
San Fernando Valley
Shadow Hills
Sherman Oaks
Studio City
Sylmar
Valley Glen
Valley Village
Van Nuys

Get Started with Visiting Angels in Lake Balboa, CA
At Visiting Angels, we understand that you want your loved ones to continue living in the comfort and safety of home—and we want to help you accomplish that. As a trusted name in-home care for more than 20 years, we're dedicated to providing comprehensive home care services customized to your loved one's needs. Our team of experienced and compassionate caregivers is committed to providing the highest quality care, from post-op to cancer care. When you trust Visiting Angels, you can have peace of mind knowing you're in capable hands.
Contact our home care agency in Lake Balboa, CA, today for more information on our exceptional caregiving services or to arrange a free in-home assessment.
Serving Reseda, Granada Hills, Porter Ranch, Sherman Oaks, North Hollywood and throughout the San Fernando Valley area
Visiting Angels
RESEDA, CA
17750 Sherman Way #310
Reseda, CA 91335
Phone: 818-206-8121
Fax: 818-742-6246
HCO #194700201