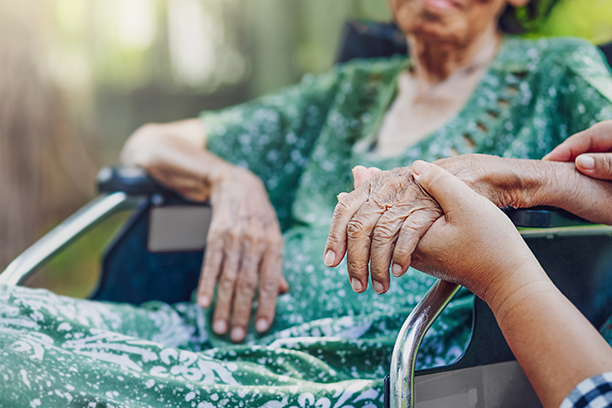 Post COVID Care in San Fernando Valley | Visiting Angels
Post-COVID Care in San Fernando Valley
COVID-19 is a unique virus that has continued to evolve since it first became prominent in 2019. It doesn't always affect everyone that's tested positive the same, as symptoms may be more or less severe depending on a person's unique state of health. One of the most difficult things about getting COVID-19 is how it can affect the body once the virus has passed, often completely altering a person's health from where it was before. No one should have to live with the after-effects of COVID-19 alone, and that's why Visiting Angels provides post-COVID care in the San Fernando Valley to assist patients with the widespread struggles of life after COVID-19.
Our caregivers are trained to provide care that is flexible and effective for a wide range of patients. We dedicate ourselves to delivering the very best care for your needs, so you can get back to living a comfortable and stress-free life.
Visiting Angels is a network of franchised home care agencies that are committed to delivering comprehensive home care and post-COVID care throughout the United States. With over 20 years of experience caring for people, you can have peace of mind knowing that you or your loved one are in capable hands.
If you or a loved one are in need of post-COVID care in the San Fernando Valley, call our team at Visiting Angels today.
How Long Does It Take to Recover From COVID-19?
Almost everyone experiences COVID-19 differently, from specific symptoms to necessary aftercare. While active infection and most major symptoms will subside two weeks after initial infection, some people experience symptoms long after the virus has passed through their body. These post-COVID symptoms often have an indeterminable time for recovery, ranging from a couple of weeks to many months, so everyone is different.
Symptoms of a Post-COVID Condition
COVID-19 takes its toll on almost every aspect of the human body, and everyone will experience the initial disease and any post-COVID symptoms differently. In order to better understand how to recover from COVID-19 and live life in a post-COVID state, it's important to understand the range of a post-COVID condition.
The following elements of life tend to be the most strongly affected when recovering from COVID-19:
Body
Some people may experience shortness of breath or difficulty breathing due to how COVID-19 harms the body's lungs and general respiratory system. Extended loss of sense of smell or taste is also possible, as well as increased daily fatigue.
Mind
Individuals suffering from post-COVID symptoms may find that they have a harder time concentrating on certain tasks or that they may be experiencing a kind of "brain fog". They may also have trouble with their memory and struggle with managing things like medication or everyday finances.
Mood
COVID-19 can seriously affect a person's physical and emotional health and cause feelings of anxiety or depression. The strains of the virus can also impact an individual's ability to sleep, and they may experience nightmares related to their illness.
Function
Daily life after COVID-19 can also become difficult for those that have been seriously affected by the virus, as tasks like driving, working, or going to school can become stressful or taxing. For those that have been physically affected, walking, bathing, dressing, and other self-care activities can also become tricky.
Types of Post-COVID Conditions
Given COVID-19's complexity, post-COVID conditions may vary depending on how a person is affected by the virus. Some of these conditions are more severe than others, but it's important to have a comprehensive understanding to better determine if you are suffering from a post-COVID condition.
New or Ongoing Symptoms
When a person has been infected with COVID-19, they may experience a range of new or continuous symptoms weeks to months after the virus has run its course through the body. These symptoms can occur no matter how mild a person's initial symptoms were, and in some cases, can appear even if a person didn't experience symptoms at all. Some of the most common symptoms in this category include shortness of breath, headache, change in smell or taste, and sleep problems.
Autoimmune Conditions
Individuals who experienced severe illness with COVID-19 may experience new autoimmune conditions as a part of a post-COVID condition. These conditions happen when your immune system attacks healthy cells in your body by mistake, causing inflammation or tissue damage in the affected parts of the body. While these autoimmune conditions can vary depending on the person, they must be taken seriously to avoid any additional health complications.
How to Know if You Need Post-COVID Care
Figuring out if you need post-COVID care can be tricky, but there are a few telltale signs that additional care may be needed. The best candidate for post-COVID care is someone who has developed additional long Covid symptoms after any kind of COVID-19 treatment, someone who was hospitalized due to COVID-19, or someone with comorbidities such as hypertension and diabetes. Individuals in any of these positions could be at increased risk of experiencing post-COVID complications and should be cared for accordingly.
Our Post-COVID Care Services
At Visiting Angels, your health and well-being are our top priorities. That's why our post-COVID care services are as thorough as possible, so you can get the rest you need while recovering from such a difficult virus. From housekeeping to personal care, our professional caregivers are here to help you in any way they can.
Below are some of the most common post-COVID care services we provide in the San Fernando Valley.
Housekeeping
Post-COVID can make moving around the house more strenuous than it used to be, which can turn completing daily chores into a challenging task. The physical symptoms of post-COVID can make tasks tiring, and the mental symptoms can make focusing on what needs to get done more difficult. You deserve to rest in a clean and functional environment while managing such a tricky condition, and that's why our housekeeping services are here to make sure your home is orderly at all times.
Our housekeeping services include:
Daily chores like sweeping, vacuuming, dusting, watering plants, etc.
Cleaning and disinfecting toilets, showers, sinks, and countertops
Dishes
Emptying garbage
Cleaning out the fridge
Laundry
Medication Reminders
In some cases, an individual may need to take new medications to manage their post-COVID symptoms. Some people may struggle with remembering to take these medications because they didn't have to before they were infected, and missing a dose can have serious negative effects on recovery. We help you prevent any delays in your post-COVID treatment by providing reminders, so you never forget to take any of your medications.
Symptom Monitoring
Post-COVID can leave people with a variety of evolving symptoms, some of which can become severe over time. It's important to have an idea of what symptoms you might have, which ones might be developing, and which ones need to be addressed right away. The professionals at Visiting Angels can help by monitoring your symptoms, so you and your doctor always have an idea of how your condition is progressing.
Transportation
While post-COVID may not stop some people from operating a vehicle physically, the mental effects of the condition can turn driving into a much more daunting task for some. Whether it's due to physical or mental limitations, if you feel like you can't drive, it's best to let someone else handle it, so no one is put in any unnecessary peril. Our care specialists are prepared to drive you wherever you may need to go, from prescription pick-ups, doctor appointments, general errands, and more.
Personal Care
Just as transportation can be a dynamic issue, post-COVID affects everyone's ability to conduct personal care differently. If post-COVID has restricted your mobility in any way, our caregivers can assist with tasks such as showering, dressing, grooming, and using the bathroom. We can also encourage you to complete certain personal care tasks with a gentle helping hand if you're experiencing feelings of depression or anxiety.
Food Preparation
The post-COVID symptoms of a loss of sense of smell or taste can leave some people with a strained relationship to food. Some people may not have an appetite because they can't enjoy food in the same ways they did before, but it's still important to get proper nutrients during recovery. Our professional caregivers can work with you to plan, make, and potentially feed you well-balanced meals that meet your specific needs.
Companionship
One of the many aspects of recovering from COVID-19 is the isolation required when a person is actively infected. This seclusion can take a serious mental toll on individuals who require regular social interaction and can ultimately lead to increased depression. When it comes to post-COVID care, giving people the support they need is vital, and that's where Visiting Angels can step in to help.
By providing sympathetic companionship, our caregivers are able to ensure that you're not alone in your post-COVID struggles. Whether you want someone to watch television with, play games, or just have a conversation, we're here to make post-COVID as stress-free as possible.
How Long is Post-COVID Care?
The dynamic nature of post-COVID means that the length of care can vary greatly. Visiting Angels provides both short-term and long-term care in the San Fernando Valley to fit an individual's specific post-COVID needs. If you've just recently recovered from COVID-19 and need help managing medications or any underlying symptoms, we can help.
Our caregivers can also provide assistance if you had COVID-19 a long time ago and are now experiencing restrictions that you didn't have before. No matter the circumstances, Visiting Angels is here to provide compassionate, comprehensive care.
Areas We Serve
We provide post-COVID care in the San Fernando Valley, which includes the following locations:
Chatsworth
Granada Hills
Lake Balboa
North Hills
North Hollywood
Northridge
Porter Ranch
Shadow Hills
Sherman Oaks
Sherman Village
Sherwood Forest
Sepulveda
Studio City
Sunland
Valley Village
Valley Glen
Tarzana
Why Choose Visiting Angels
Visiting Angels has been a trusted name in-home care for over 20 years. We provide specialized care built around your schedule, treatments, personal preferences, and health needs. Our professional and experienced caregivers prioritize your safety, health, and comfort over everything else in order to make your treatment as smooth as possible. When you trust Visiting Angels to care for you or a family member, you get the support of people who are dedicated to your well-being.
To talk to our team about post-COVID care in the San Fernando Valley, CA, contact us today. We look forward to helping you in any way that we can.
Serving Reseda, Granada Hills, Porter Ranch, Sherman Oaks, North Hollywood and throughout the San Fernando Valley area
Visiting Angels
RESEDA, CA
17750 Sherman Way #310
Reseda, CA 91335
Phone: 818-206-8121
Fax: 818-742-6246
HCO #194700201