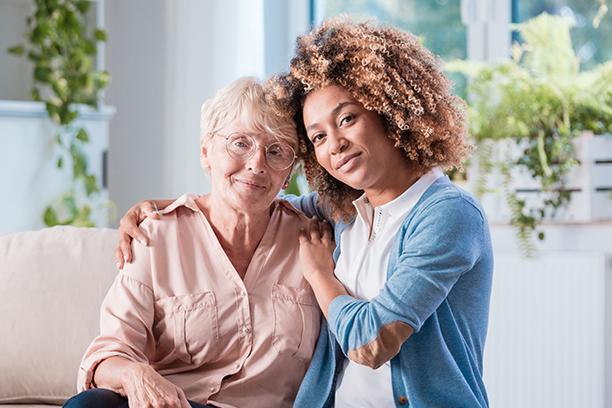 Heart Surgery Post-Op Care in Chatsworth, CA
Heart Surgery Post-Operative Care in Chatsworth, CA
Do you or a loved one need heart surgery post-op care in Chatsworth, CA? The success of your recovery depends on the post-op care you receive. Recovering alone or without adequate care is dangerous and can lead to further complications. Visiting Angels provides heart surgery post-op care in Chatsworth, CA to patients who need help taking care of themselves following cardiac surgeries.
The caregivers at Visiting Angels are experienced in helping clients handle the recovery process. We work with you and your family to develop a customized care plan, specific for your needs at home. Under our watchful eyes, you can heal in comfort and with ease.
With 24 years of compassionate post-op care in our company's history, it comes as no surprise that we are trusted to help Chatsworth patients get back to their pre-op condition. To learn more about our heart surgery post-op care in Chatsworth, CA, call Visiting Angels today.
How to Know if You Need Heart Surgery Post-Op Care in Chatsworth, CA
There are several questions you should ask your doctor if you are trying to determine if heart surgery post-op care is right for you. Consider asking:
How long is my projected recovery time?

Will I need follow-up therapy, and, if so, for how long?

What will my physical limitations be while I recover?

Will I need to rent or purchase medical equipment designed to aid in my recovery?
You'll want to consider post-op care if you meet the following criteria:
If your recovery is expected to last a while

If you'll need physical therapy

If you'll need a medical device such as a wheelchair

If your doctor suggests restrictions to your daily routine
Benefits of Post-Op Care
Heart surgery has many associated risks, but the weeks following your surgical procedure determine the overall success of the operation. Depending on the nature of your surgery, you could be immobile or have your mobility greatly compromised.
If you live alone or do not have access to help, you are taking on more risk post-op than if you had adequate access to care. Visiting Angels takes up the responsibility of daily tasks, cleaning, washing, and more so you can focus on getting back to your pre-op self.
Visiting Angels comes to you, wherever you will be residing while you recover. You can heal in the comfort of your own home, in your nursing facility, or assisted living facility. Leave the post-op care to our experienced caregivers and drastically reduce the risk of infection and unnecessary harm.
Our Heart Surgery Post-Operative Care Services
We have compiled a list of the most common services we are asked to perform for recovering patients. You may be surprised to see some of the services we offer – we mean it when we say we are all-encompassing in our compassionate caregiving!
Housekeeping
Staying off your feet while you recover is important for the healing process. Chores like dishwashing or vacuuming are labor-intensive and can lead to swelling, bruising, and bleeding. When your mobility is limited, the most mundane of tasks become a challenge.
Some of the housekeeping services we provide include:
Daily chores like dusting, vacuuming, sweeping, watering plants, etc.

Cleaning and disinfecting showers, toilets, and sinks

Laundry

Emptying garbage

Dishes

Cleaning out the fridge
Medication Reminders
Pain medication and antibiotics are crucial for controlling pain and reducing the risk of infection. Staying on top of your medication is made more difficult if you are impaired by your medication! Our caregivers will remind you when to take medication so you can stay on track for recovery.
Transportation
If your ability to drive is impaired as a result of your recovery, then getting to places like appointments, grocery stores, and pharmacies is made more difficult. Trust our Visiting Angels to get you to where you need to be – safely!
Personal Care
Keeping clean is an important part of the recovery process, especially as incisions are healing. Taking a shower by yourself can not only be difficult but dangerous too. Our caregivers will help you with the everyday necessities of personal care – from using the restroom to showering and grooming.
Food Preparation
A healthy, well-balanced diet is a must when recovering from surgery. Our caregivers will help make sure you eat nutritious meals. We work with any diet restrictions to provide our patients with the nutrition they need to heal.
Companionship
Did you know our Visiting Angels can help you with that overlooked ingredient to a healthy recovery? A healthy, positive mindset is crucial for a quick and painless recovery. Our caregivers would love to support you if you are far from loved ones or get lonely easily. Visiting Angels is here for you.
How Long is Heart Surgery Post-Operative Care?
Some surgeries are more intense than others, so our caregivers are prepared to assist you as long as you need us. Whether you need support for a few hours or several weeks, we are well equipped and experienced to provide the care you need to properly recover.
Areas We Serve
We provide heart surgery post-op care in the San Fernando Valley, which includes the following locations:

Chatsworth
Granada Hills
Lake Balboa
North Hills
North Hollywood
Northridge
Porter Ranch
Reseda
Sherman Oaks
Sherman Village
Sherwood Forest
Studio City
Sunland
Tarzana
Valley Glen
Valley Village
Van Nuys
Why Choose Visiting Angels
Our Visiting Angels have been providing all-encompassing, compassionate home care services since 1998. We believe that a successful surgery is only as good as the quality of post-op care during recovery. Our caregivers work with you to design a heart surgery post-op treatment plan that will get you back to normal as fast and as pain-free as possible.
Call us today to learn more about our team and the compassionate heart surgery post-op care we provide in Chatsworth, CA. Let us help you get back on your feet!
Serving Reseda, Granada Hills, Porter Ranch, Sherman Oaks, North Hollywood and throughout the San Fernando Valley area
Visiting Angels
RESEDA, CA
17750 Sherman Way #310
Reseda, CA 91335
Phone: 818-206-8121
Fax: 818-742-6246
HCO #194700201