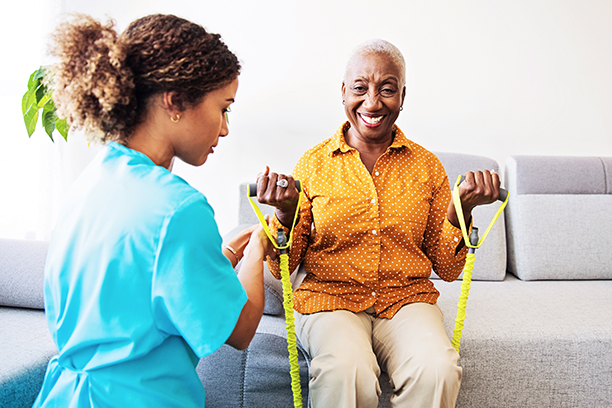 Senior Care Services in Reynoldsburg, OH
Whether the distance is five miles or five hundred miles, Visiting Angels gives you the opportunity to be a part of your loved one's senior care services. We offer a variety of options for family members to help coordinate senior care services no matter where they might be. Realizing that your loved one needs the help of a caregiver can be hard to understand, especially when you live far away. At Visiting Angels, we help bridge the distance.
Visiting Angels is the Agency You Can Trust
For decades, we've gained experience providing care for thousands of families across the nation. We've catered to families with different backgrounds, health and wellness needs, and personalities. Today, we are a strong force within the home care agency and we're constantly improving each and every day. When you choose Visiting Angels for your loved one, you're choosing a home care agency that you can trust to get the job done right.
Through our one-on-one caregiving, we pay special attention to your loved one. Additionally, we create a personalized care plan for each of our clients. Each client is unique and has a particular background, health needs, and scheduling. To accommodate that, we prioritize creating a personalized care plan. As your loved one changes, the care plan will change as well.
If you have an elderly family member who requires long distance caregiving, here are some of the ways that Visiting Angels can help:
When you call 800-365-4189, we will put you in touch with the Visiting Angels office serving your loved one's area. (Alternatively, you can contact your loved one's local office directly through our website's "Find Home Care" feature.)
Your loved one's local Visiting Angels office will provide you with detailed information via phone or email, including answers to any questions you may have and recommendations for next step.
We will help you coordinate a detailed care consultation for your loved one. For long distance caregiving, we conduct a one-on-one in-home consultation with your loved one, as well as a detailed phone consultation with the family member(s) responsible for coordinating care.
Visiting Angels will match your loved one with a compassionate caregiver, whose skills are ideally suited to your loved one's needs.
Once care services begin, we will provide regular updates by phone or email, keeping you up to date on your loved one's physical, cognitive, and emotional well-being. If we notice changes in your loved one's health, you will be immediately notified.
We perform regular drop-in visits and check-in calls to ensure the safety and well-being of our clients. Additionally, all of our offices maintain an after-hours line that family members can call in the event of emergencies or other urgent situations.
Through it All, We Keep You Updated
Making sure that you're updated throughout your loved one's care is our priority. We provide regular updates by phone or email. Also, if there are any sudden changes in your loved one's health we will inform you immediately. Additionally, our offices offer an after-hours line that you can utilize for emergencies and other urgent events. When you choose Visiting Angels, you'll always be a part of your loved one's senior care services.
Long distance care is made possible through Visiting Angels. In order to schedule a free in home consultation, call your loved one's local Visiting Angels offices today.
Serving Fairfield, Franklin & Licking Counties including Johnstown, Groveport, Lancaster and the Surrounding Areas
Visiting Angels Reynoldsburg, OH
7315 E Main St
Reynoldsburg, OH 43068
Phone: 614-866-5000