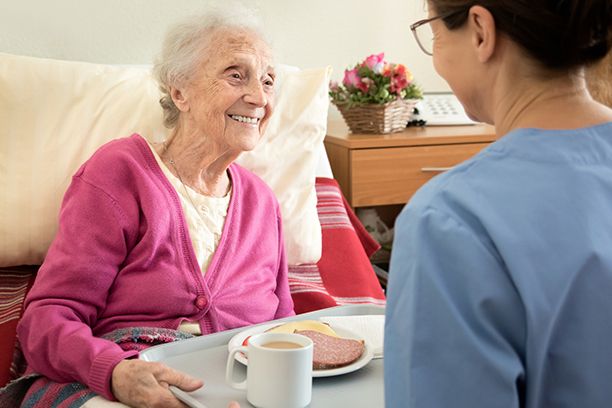 Visiting Angels Home Care in Reynoldsburg, OH
Why Choose Visiting Angels for Your Home Care Needs?
At Visiting Angels, we're dedicated to giving seniors the chance to stay at home for as long as possible. We show that we're committed to this sentiment in a variety of different ways including allowing you to keep your current schedule, allowing you to select your caregiver, and providing you with a personalized senior care plan.
Through It All, You're In Charge
When you choose Visiting Angels home care, you're choosing flexibility. Your caregiver won't try to dictate what your schedule needs to be (i.e when to bathe, when to get up, when to eat etc.) We're here to enhance the life that you already live and make you more comfortable at home, not to barge in. Visiting Angels is senior home care at its best.
Licensed, Bonded, and Insured
All of Visiting Angels home care agencies are required to be bonded and insured. In states where licensing is required, we require that those elderly care agencies have the appropriate state license that permits "hands-on care." We want all of our clients to have peace of mind and know that they're in good hands.
Monitoring is Key
Through utilizing our unique system of personalized contacts, we practice a continued monitoring schedule with our clients. We also check on our clients through telephone check-ins and home visits. We believe that monitoring is key in order to provide quality home care.
You Are In Charge – We're On Your Schedule
Each of our clients is unique and deserves a care plan that perfectly fits their health and wellness needs. From part-time care to full-time care, respite care to in-home care, Visiting Angels home care can find a caregiver that'll work perfectly for you. As you grow, your care plan can grow with you. We'll change and alter your care plan as different needs arise. Additionally, we're able to work alongside nursing agencies or home health agencies that may be catering to your loved one after a recent hospital stay.
Serving Fairfield, Franklin & Licking Counties including Johnstown, Groveport, Lancaster and the Surrounding Areas
Visiting Angels in Reynoldsburg, OH
7315 E Main St
Reynoldsburg, OH 43068
Phone: 614-866-5000