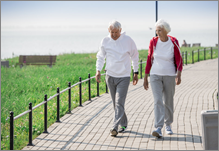 Healthy Aging Month: Staying Healthy After Sixty
It's important for everyone to take care of their health and well-being, no matter their age. However, the golden years are filled with different challenges for adults over the age of 60. Older adults are more vulnerable to weight gain, nutritional deficits, fragile bones, memory loss, depression, and sleep problems. They also have an increased risk for complications due to the flu or common cold.
September is Healthy Aging Month. First introduced as the oldest baby boomers were about to turn 50, it aims to bring attention to the positive aspects of growing older. Health becomes extremely important the longer we live. If you haven't already developed healthy habits as a young or middle-aged adult, starting in your 60s can give you the boost you need as you head into older adulthood. Follow these five tips to stay healthy after sixty.
Increase Hydration
Our thirst response diminishes with age, causing many older adults to suffer from dehydration. Certain medications that older adults take to manage chronic health conditions can also cause dehydration and dry mouth. However, staying adequately hydrated ensures that your body functions properly. It's not only important to drink water to replace lost fluids, but being well-hydrated helps keep joints lubricated, regulates body temperature, prevents infection, and allows organs to perform at their optimal potential. Start the day with a glass of water, then aim to drink water before each meal. Carry a water bottle with you throughout your day to remind you to stay hydrated.
Eat a Healthy Diet
Fruits and vegetables aren't just important for growing kids. They are essential for healthy aging as well. A diet rich in fruits, vegetables, lean protein, and fiber gives the immune system a boost and protects the body against harmful bacteria and viruses. A healthy diet supports an active lifestyle, giving older adults more energy to pursue exercise and other active hobbies. Although some older adults feel entitled to more frequent sugary and fatty indulgences, it's important that older adults continue to limit their consumption of unhealthy foods and drinks. Eating too many sweets can quickly lead to unwanted weight gain, which is more challenging to lose as you age.
Stay Active
Adults over the age of 30 lose as much as three to five percent of muscle mass each decade. This can lead to mobility difficulties and overall weakness. Loss of muscle mass also increases an older adult's risk of falling and experiencing a fracture due to a fall. It takes longer for older adults to rebuild endurance and muscle mass. This means that older adults who desire to age well need to stay active. Active doesn't necessarily mean strenuous. Low impact exercises, such as walking, swimming, or yoga, are effective too.
Schedule Annual Physical Exams
Regardless of how you feel, annual physical exams are important for all adults starting at age 50. This is typically the age when doctors perform multiple preventative health screenings. Many chronic health conditions can easily go undetected, such as diabetes and high blood pressure. Regular physical exams allow your doctor to become familiar with your personal medical history and may even prevent long-term complications when a condition is detected early. Think of your annual physical exam as an opportunity for you and your doctor to assess your overall health.
Prioritize Sleep
Like how our metabolism slows with age, other hormonal changes occur as we approach older adulthood that can affect our sleep. Changes that occur in the body's internal clock and a decreased production of melatonin can impact an older adult's quality of sleep. The National Sleep Foundation recommends seven to eight hours of sleep each night for older adults. It's important for all adults to develop healthy sleep habits. If you haven't yet found your natural sleep rhythm, start by prioritizing sleep. Turn off all electronics an hour before bedtime. Make sure your room is comfortable and cooler at night. Consider using a sound machine and avoid falling asleep to the television.
A healthy mindset is the key to leading a healthy lifestyle in older adulthood. Visiting Angels Richmond is here to help older adults keep their health on track. We provide non-medical care to older adults who need help maintaining their independence in the comfort of their own homes. Our compassionate caregivers can assist with meal planning and preparation, as well as escort you on a walk to help you meet your health goals. They can also escort you to your doctor appointments if transportation is prohibiting you from going. If you want to learn more about our personalized care plans or our at-home care services, please do not hesitate to contact us by calling 804-353-0000.