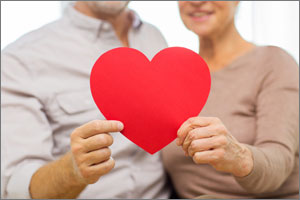 Healthy Habits for Senior Hearts
The Centers for Disease Control and Prevention reports that the leading cause of death in the United States is heart disease. Aging causes a variety of changes in the cardiovascular system, including the stiffening of blood vessels and arteries. As a result, the heart works harder to pump blood throughout the body. Other unhealthy lifestyle choices can cause even more significant damage, leading to an increased risk of heart disease.
Although heart disease remains the leading cause of death in the U.S., the good news is that it can be prevented. February is American Heart Month. The American Heart Association wants all older adults to know their risk of heart disease and develop healthier habits to lower their risk for cardiovascular disease. Below are four healthy habits that can lead to healthier hearts in seniors.
Develop the Habit of Exercise
Most older adults know that exercise is an important component of healthy aging. Yet, many continue to live a sedentary lifestyle. The American Heart Association recommends at least 150 minutes of moderate exercise per week to improve overall cardiovascular health. The first healthy habit for senior hearts is the habit of exercise. Chesterfield Parks and Recreation offers a variety of recreation and leisure programs for adults over the age of 50, including fitness classes. Chesterfield Family YMCA also offers fitness classes for older adults, as well as on-demand workouts seniors can do in the comfort of their own homes.
Develop Healthier Habits to Cope with Stress
Stress is harmful to the heart, causing blood pressure to rise and lowering good cholesterol (HDL). How seniors react to stress can also increase their risk of heart disease, especially if they manage stress in unhealthy ways. Another way seniors can reduce their risk of heart disease and improve their heart health is to find healthier ways to cope with stress. Instead of stress-eating, sip on a calming tea. Enroll in chair yoga at the YMCA of Greater Richmond. Places like the Mindfulness Bar or the Innerwork Center can help seniors explore meditation, a proven method of reducing stress.
Develop the Habit of Eating for Your Heart
Many older adults struggle with nutrition. Cooking for one or diminishing dexterity can make it difficult for some seniors to prepare healthy meals. However, what we eat can help prevent heart disease. A heart-healthy diet, one filled with fresh fruits and vegetables, lean protein, and whole grains, lower the risk of heart disease and stroke. Develop the habit of eating for your heart. If you're a senior who struggles to prepare healthy meals or you're concerned about Mom or Dad eating healthy, programs like Senior Connections offer healthy home-delivered meals.
Develop the Habit of Knowing Your Numbers
Older adults have a higher risk of being diagnosed with high blood pressure, high cholesterol, or diabetes. Any or all of these puts them at a higher risk of having a heart attack or stroke. If you're a senior with any or all of these conditions, develop the habit of knowing your numbers. Schedule regular check-ups with your primary care physician. Ask about home blood pressure monitors to keep an eye on your blood pressure. Join a local diabetic support group for more support and education. Ask your doctor about your cholesterol. Follow your doctor's recommendations regarding any medications prescribed to manage these conditions.
How Visiting Angels Chesterfield-Richmond Can Help
One last healthy habit seniors can develop to help their hearts is to ask for help at home. Visiting Angels Chesterfield-Richmond provides professional at-home care assistance, allowing seniors to age in place. Our compassionate caregivers can be your cheerleader as you choose to put your health first. We can help you go for a walk around your neighborhood, so you get the exercise that you need. We can help with meal planning and preparation, so you have healthy meals to eat throughout the week. We offer medication reminders and companion care, so you don't stress about living alone or feeling isolated. To learn more, please contact us today by calling 804-423-6500.