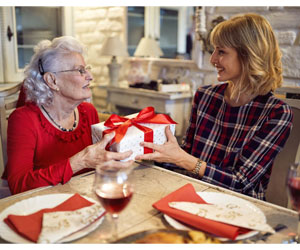 How to Simplify the Holiday Season for Mom and Dad
December is National Stress-Free Family Holidays Month. While the holiday season should be a time for joy and celebration, the reality is that the time between Thanksgiving and New Year's is often filled with pressure and anxiety. This is true even for your aging parents.
The holiday season poses many challenges for older adults, especially those who rely on a family caregiver to navigate everyday life. This year, consider trimming your traditions to reduce anxiety and stress. Here are four ways adult children can simplify the holiday season for their aging parents.
Start with Simple Decor
Decking the halls and trimming the tree can become overwhelming and exhausting for some older adults. This year, help Mom and Dad decorate their home and keep it simple. Plan a family decorating day, where your siblings or the grandchildren can come over to assist. Let Mom and Dad relax or give instructions while seated comfortably on the couch. If you're pressed for time, look into local businesses that offer assistance with holiday decoration, including Walmart.
Simplify Gift-Giving
If your family has grown over the years, it might be time to help your elderly parents simplify their gift-giving. Decide amongst your extended family if it's time to draw names instead of everyone buying a gift for everyone else. Encourage your parents to write a check to each family unit or give an experience gift, such as a membership to a museum or zoo. Although they may seem impersonal, a gift card to a favorite store or restaurant is often a welcomed gift. Another different idea is to decide as a family to sponsor a family in need this holiday season. Chesterfield-Colonial Heights Christmas Mother program is a nonprofit organization that aims to ensure families, foster children, and elders aren't forgotten over the holidays.

Choose to Celebrate What's Most Meaningful
Another way to keep the holidays simple is to reduce how many activities you and your elderly parents participate in this year. Ask Mom or Dad what's the most meaningful holiday tradition they enjoy. Maybe it's taking a drive to see the lights or attending a religious service. Consider taking Mom or Dad to a holiday program at the Perkinson Center. Attend a local high school holiday concert, which is generally free or low-cost and an easier venue to navigate. Be selective and choose events that will bring everyone joy.
Share Hosting Responsibilities
Hosting large family gatherings creates a lot of stress for older adults. If Mom and Dad's home is where you and your siblings typically gather to celebrate the holidays together, perhaps it's time that someone else assumes the hosting role. Leave it up to your parents if they prefer to have everyone over to their house, then coordinate with your siblings so that your parents can relax and enjoy time with their family. Whether you cater the meal or ask everyone to bring a dish to share, finding ways to share hosting responsibilities can take the stress out of the holiday season for your elderly parents.

As you look to simplify your holidays for Mom or Dad, perhaps it's time for at-home senior care. Visiting Angels Chesterfield-Richmond strives to ensure seniors in Richmond, VA including Chesterfield, Powhatan, and Henrico counties receive the at-home care assistance they need to confidently age in place. We understand that making this transition can be a stressful period. We do everything we can to ensure that our clients enjoy a positive experience. We provide customized care plans, schedule care when your parents need it most, and get to know your parents' preferences and routines so that we can match them with the skills and personality of a caregiver best suited for them. To find out more about our at-home care assistance, please contact us today by calling 804-423-6500.