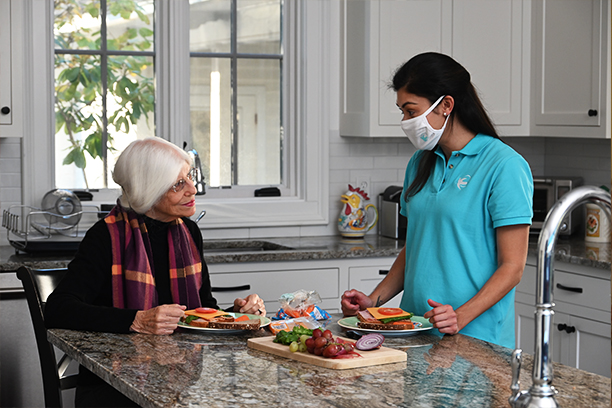 Visiting Angels Offers Dignified Incontinence Care for Seniors in Midlothian, VA and Surrounding Areas
Seniors who are dealing with incontinence in Midlothian, Richmond and surrounding areas in VA can age comfortably at home with help from our trained in-home care providers
Unfortunately, a lot of older adults are too familiar with incontinence and the problems it causes. This condition is often triggered by certain meds and some health issues. In addition, incontinence can worsen existing and cause further health problems. This is why seniors who wish to age independently at home need to take the necessary steps to manage this condition.
If your loved one is struggling with incontinence, in-home care providers from Visiting Angels Richmond VA can help them by delivering dignified in-home senior care. Any time your parent has an accident our care specialist can help them get cleaned up and supervise them to ensure their well-being and safety.
What Does Incontinence Care from Visiting Angels Richmond VA Include?
Incontinence can put seniors in uncomfortable and embarrassing situations. Our goal is to minimize those moments as much as possible and help your loved one age with dignity. Our dedicated caregivers can help your parent stay clean and dry and keep track of their accidents, so your loved one's doctor has all the data they need to find the cause of the problem.
To make sure your parent lives in a clean environment, our in-home care providers will wash any soiled sheets and clothes and help your loved one with maintaining personal hygiene. Whether your loved one needs help with dressing, bathing or toileting, you can count on Visiting Angels Richmond VA and our discreet and professional senior care services.
Our caregivers can keep an eye on your senior and mark down every time an accident occurs. This information can be very useful to your parent's health provider and help them determine what is causing the incontinence. With Visiting Angels Richmond VA, you can rest assured that your senior loved one will receive the level of care they need to age comfortably at home.
To seniors in Midlothian and surrounding communities, we offer personalized care plans and exceptional home care services. We will work around your loved one's schedule, making sure we do not disrupt their daily routines. Whether they need our services a couple of hours a day or 24 hours a day, we are here to help.
If you wish to learn more about our home care services and ways our in-home care providers can help your aging loved one with incontinence, please contact our Midlothian, VA office at 804-423-6500 today. We are here to answer your questions and help you schedule an in-home assessment.
Serving Midlothian, Richmond, Chesterfield, Henrico and throughout the Southside neighborhoods of Brandermill, Bon Air, and Westhampton
Visiting Angels in Midlothian, VA
2405 Dovercourt Dr #A
Midlothian, VA 23113
Phone: 804-423-6500