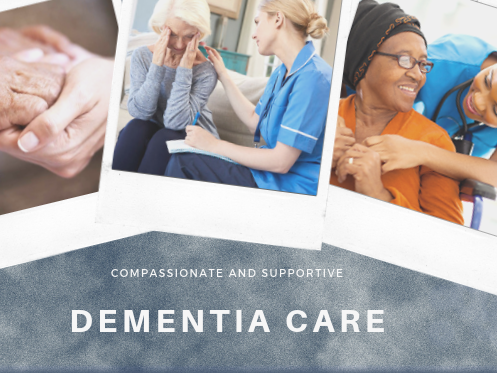 Common Types of Dementia and How the Dementia Care Professionals at Visiting Angels in Murrieta, CA Can Help
As our seniors age, it is common for them to experience minor memory changes; if you or a loved one sometimes have problems remembering names or recent events, or misplace everyday items, don't be overly concerned, these are all signs of normal aging. What is not a sign of normal aging is more seriously impaired thinking, memory, and problem-solving that interferes with daily living; normal aging does not require dementia care. Below are signs of dementia and may need dementia care assistance.
Symptoms of Dementia in Seniors
Seniors with dementia can experience a range of symptoms such:
Communication challenges

Reasoning difficulties

Problem-solving issues

Motor function limitations

Disorientation

Confusion

Memory loss

Personality changes (i.e.,

dementia and anger

)
These kind of symptoms are best cared from with dementia care from a trained professional.

Types of Dementia
Dementia is not a disease itself, rather it is a condition that is caused by a variety of different diseases, which all use different dementia care. The most common types of diseases are:
Alzheimer's Disease




60-80% of dementia cases are caused by Alzheimer's. This disease gets worse over time, typically causes memory loss, can lead to language problems, and erratic and/or unpredictable behavior. It is often expected that Alzheimer's patients will experience a change in mood which can cause confusion, leading to the individual becoming angry, scared, or violent, sometimes switching between these emotions rapidly. We do not fully know the root cause of Alzheimer's, however research has shown that certain genes can be passed from parent to child. Learn how a Visiting Angels' caregiver can provide

Alzheimer's care

for your loved one.
Vascular Dementia




Vascular dementia appears when the blood vessels that provide oxygen to the brain are damaged; it is possible for the damage to be gradual and progress over time due to numerous narrowed blood vessels and/or small blockages or bleeds in the brain, it can also have a sudden onset after experiencing vascular brain injuries such as a stroke. Vascular dementia differs from Alzheimer's because the memory loss is not usually a pronounced symptom. Rather, the most common symptoms of Vascular dementia include sluggish thinking, trouble solving problems or making decisions, unsteady gait, and difficulty concentrating or focusing.
Lewy Body Dementia


Another disease that is a common with progressive dementia is

Lewy body dementia

. This disease is more common in men than women, it can have a sudden onset, and tends to progress very quickly. The most common signs of Lewy Body dementia include impaired thinking and memory, difficulty remaining alert or maintaining attention, stiffness and slowness of movement, visual hallucinations, and changes to sleep and behavior. It is also common for Lewy Body to cause your bodily systems to become dysregulated, which tends to lead to circulatory or digestive problems such as changes to blood pressure, dizziness, and constipation.
Mixed Dementia




Some people with dementia can have two or more underlying diseases, such as vascular dementia and Alzheimer's disease, that contribute to their symptoms.
Dementia Care for Seniors in Menifee, Murrieta, and Nearby Cities
There are reversible conditions that can mimic symptoms of dementia. Because of this, it is very important to get the correct medical diagnosis, and then seek dementia care if you feel it is the best option for your loved one. Make sure to speak to your loved one's doctor if you notice them displaying any signs or symptoms; this is especially important if your senior is at risk for dementia due to any of the following:
Family history

Poor diet

Nutritional deficiencies

Sedentary lifestyle

Smoking or alcohol use

Cardiovascular disease

Sleep apnea



If you're interested in more information about how in-home dementia care can help your senior loved one call Visiting Angels at 951-355-1940.