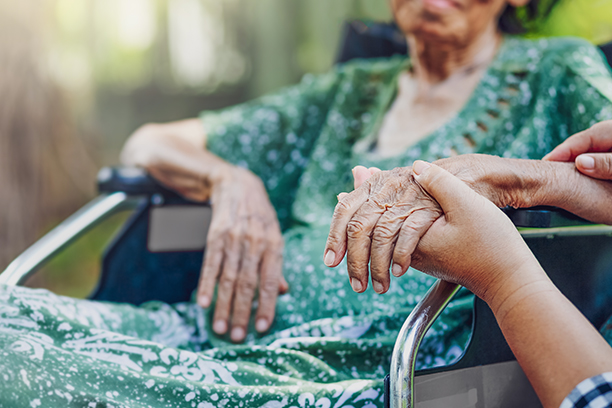 Long Distance Care Giving in Riverview
How Homecare Services Can Help Your Family Find Peace of Mind
If you are the adult child of an aging parent, you may struggle with the decision of whether or not your elderly loved one can continue living safely at home. You may have concerns about your loved one's ability to live alone, especially if you don't live close enough to provide assistance when they need it. Due to job transfers, retirement, and for other reasons, this situation is not uncommon. Thankfully Visiting Angels® Riverview offers homecare services to help families who are too far away to personally lend a hand to elderly loved ones.
When you can't be there to assist your loved one, homecare services from Visiting Angels Riverview are the next best thing. Our caregivers are compassionate professionals who are dedicated to helping others. When selecting caregivers to work for our agency, we seek out the types of elder care providers we would want caring for our own loved ones. Your loved one will likely form a meaningful relationship with their homecare services professional from Visiting Angels Riverview.
Continual Monitoring of Homecare Services
Because you are not nearby and able to monitor your loved one's care yourself, Visiting Angels Riverview offers continual monitoring of our homecare services. Our friendly administrative staff will follow-up with your loved one on a regular basis via telephone calls and home visits. We are looking to see that your family member is pleased with their care and that there is a good relationship between caregiver and client. Of course, you can always reach someone from Visiting Angels Riverview if you have any concerns about your loved one's homecare services.
Because seniors may not be able to easily come to our office due to limited mobility or lack of transportation, we offer complimentary in home assessments for our clients. We will meet with your loved one in their home to discuss their homecare services. We will gather information from your loved one, yourself, and physicians where needed, to get a complete picture of what your loved one is looking for in their senior care. Visiting Angels Riverview will use this information to build a one of a kind homecare services plan for your loved one.
Some of the most common homecare services we provide include:
Meal planning and preparation
Light housekeeping
Medication reminders
Transportation assistance
Walking and transferring assistance
Friendly conversation and companionship
Hygiene care
Dressing assistance
If you have a loved one who is in need of assistance in Riverview, Dearborn, Taylor, Trenton or Wayne Counties, call Visiting Angels Riverview for more information about our homecare services.
Serving Dearborn, Taylor, Trenton, MI and other Wayne County Communities
Visiting Angels RIVERVIEW, MICHIGAN
17735 Fort St
Riverview, MI 48193
Phone: 734-281-8603
734-281-8609