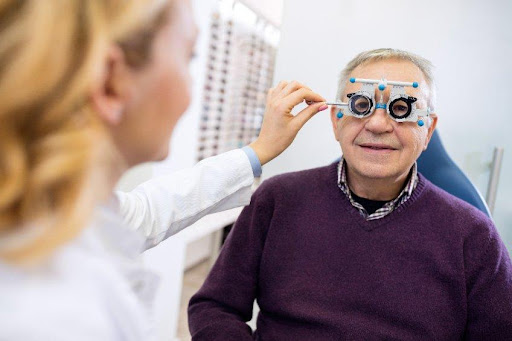 Tips for Maintaining Healthy Vision
Your eyes are an essential part of your health. They allow you to see and make sense of the world around you. As vital of an organ as they are, it's also easy to overlook your vision health. Most people expect vision changes with age and may not recognize their impaired vision could signify a more severe condition. July is Healthy Vision Month, making it an excellent time to take preventative measures for maintaining healthy vision.
Caring for Your Eyes
You can do many things to improve and maintain your eye health.
Get regular eye exams. One of the best ways to care for your eyes is to attend regular eye exams. Regular eye exams make it easier for doctors to find vision impairments during the early stages and treat the condition before you experience any significant visual changes.
Eat a vision-healthy diet. Your diet is a critical factor for maintaining healthy vision. Try incorporating omega-3 fatty acids, Vitamin C and E into your diet as these nutrients help prevent age-related vision concerns like cataracts. You can find these nutrients in spinach, kale, collard greens, salmon, tuna, eggs, nuts, and beans. A more well-balanced diet also helps prevent heart disease and diabetes, two conditions that increase the risk of vision complications.
Protect your eyes. Any time you're participating in an activity that may cause harm to your eyes, make sure to wear proper eye protection. Eye protection includes wearing sunglasses outside, as sun exposure can increase your risk of cataracts and age-related macular degeneration.
Don't smoke. Smoking increases your risk for cataracts and can cause damage to the optic nerve. It also increases your risk for numerous other health conditions, including lung cancer. Smoking is an addictive habit, and it is challenging to quit. If you need help stopping smoking, don't hesitate to talk to your doctor about treatment options.
Know your risks. Understanding your risk for various vision conditions is imperative in helping you prevent them. You can start by talking to family members to learn if there is a family history of any diseases. Also, be open with your eye doctor about any health conditions, such as diabetes or heart disease, as they could put you at risk for vision impairments. Additional risks include smoking and obesity.
Take the necessary steps to protect against eye infections if you wear contacts. If you wear contacts, ensure you're regularly changing them and keeping them clean to avoid eye infections. If you're having difficulty keeping up with your contact maintenance, consider switching to glasses.
Give your eyes a break from screen time. Your eyes need rest like any other part of your body. For every 20 minutes you look at a screen, spend 20 seconds looking at something 20 feet away to allow your eyes time to rest and recover. Screens include computers, tablets, electronic reading devices, phones, and televisions.
Working with Visiting Angels
Vision impairments can make it challenging to live independently. If you're an older adult with a vision impairment and need assistance at home, the team at Visiting Angels can help. Our professional caregivers provide non-medical services to help seniors live safely and comfortably at home. At-home services include light housekeeping, meal preparations, medication reminders, personal grooming, transportation, and more.
Our Rockwall office serves those in Rockwall and the surrounding areas. If you'd like to learn more about our at-home care services for seniors with vision impairments, call us at 214.703.8123 or send us a message.