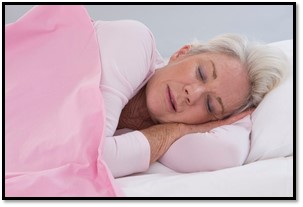 The Benefits of Sleep
Do you experience constant days of feeling unmotivated and sluggish, and you're not sure why? The reason for these less-than-desirable feelings maybe because you're not getting quality sleep at night, even if you're spending seven or more hours in bed.
What Is Enough Sleep?
According to the National Heart, Lung, and Blood Institute, anyone older than 18 years should sleep seven to eight hours each night. But being well-rested is more than just clocking a certain number of hours each night. To truly rest your body and reap the benefits of sleep, you need to get quality, uninterrupted sleep each night. That means sleeping a straight seven to eight hours without waking up or taking too much time to fall asleep at night. After a quality night of sleep, you should wake up easily feeling rested and refreshed, not lethargic.
Benefits of Sleeping Enough
Sleeping well provides a ton of benefits to your mind and body aside from just feeling well-rested.
Helps you maintain a healthy weight- Sleep balances the hormones ghrelin and leptin, which are responsible for making you feel hungry and full. When those hormones are balanced, you're less likely to experience hunger cravings throughout the day, making it easier to stick to a nutritious diet.
Reduces stress and improves your mood- Most of us have probably felt cranky or upset when we don't get enough sleep. That's because sleep helps regulate our moods and improves our ability to control our emotions.
Lowers your risk of diabetes and heart disease- Sleep plays an essential role in repairing your heart and blood vessels. Sleep also affects how your body reacts to insulin, which is the hormone responsible for managing your blood sugar levels. Those who suffer from sleep deprivation are at a higher risk for developing heart disease, stroke, and diabetes.
Improves mental clarity- Getting enough sleep improves your brain function. When you're well-rested, you'll find it's easier to learn new things, pay attention, and feel motivated.
Improving Your Sleep
According to Sleep.org, about 44 percent of seniors experience insomnia. If you're having trouble sleeping, consider these tips for a better night's sleep.
Stick to a schedule. Try to go to bed around the same time every night. Also, try to wake up around the same time each day, even on weekends or when you don't have something planned. Sticking to a sleep schedule makes it easier for your body to know when it should be sleeping and when it needs to wake up.
End screen time at least one hour before bed. The blue lights admitted from our smartphones and televisions can make it difficult to fall asleep. The brain can misinterpret blue light from devices as daylight, confusing the brain into thinking it should be waking up instead of falling asleep. Try to avoid using your devices in bed by keeping them in another room and spend the last hour before bed doing something that's not dependent on devices, such as reading or doing a puzzle.
Quit smoking. Smoking causes a lot of health concerns, but it can also affect your sleep. Nicotine is a stimulant. It works similarly to caffeine in giving your body a jolt of energy to keep yourself awake. Smoking too much can mask your sleepiness and make it harder for you to fall and stay asleep. If you're having trouble quitting smoking, talk to your doctor about treatment options.
See a doctor. If you have trouble falling asleep or staying asleep, you may want to talk to your doctors about an underlying condition. You may be suffering from a sleep disorder if you experience frequent loud snoring, pauses in breathing while sleeping, trouble waking or staying awake during the day, or pain in your arms and legs when you try to rest at night.
How Visiting Angels Can Help
If you or a loved one has trouble sleeping and needs home care throughout the night, the team at Visiting Angels Roswell can help. Our compassionate caregivers can help build nighttime routines, set alarms and, power-down electronics before bed. We also help seniors with personal care services such as grooming, toileting, and mobility. Our Roswell office serves those in Roswell, Sandy Springs, Johns Creek, Dunwoody, and the surrounding communities. If you'd like to learn more about our services, you can fill out this online form or give us a call at 770.573.7817.