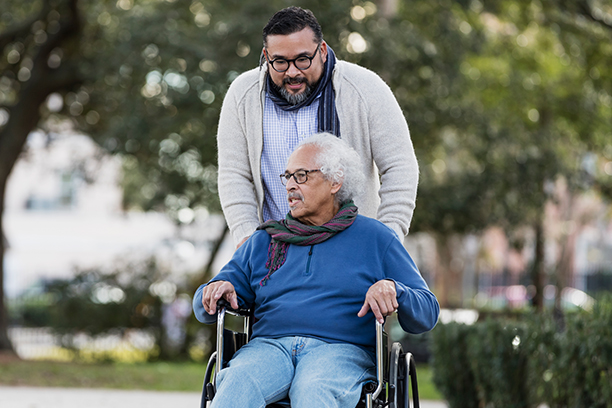 Dementia - How to Communicate with Someone
Steps in Communicating with Someone Suffering with Dementia
Use this simple guide to help communicate with someone with dementia. Remember that respect, patience, and simplicity are cornerstones of your verbal and nonverbal interactions with those with dementia.
Identify Yourself - don't quiz them to stimulate their memory. You will only highlight their losses.
Use direct eye contact - Don't shout from another room or come up from behind. Approach from the front, when possible, and get down to their level.
Use a calm, clear, low-pitched tone of voice, and speak slowly
Use short, simple sentences.

Use one step commands and instructions.

Use verbal cues to help get them started on a task.

Do not ask WHY or WHAT DO YOU WANT. Ask simple yes or no questions.

Be careful when using cues. It's easy to complete sentences for the individual and rob them of their thought and opportunity to express themselves.

Be patient.
Body language is very important. Send a caring message, not a hurried or irritated message.

Use a calm, gentle approach with a reassuring touch.

Help them understand by using gestures in addition to verbal communication to help convey the message.

Never talk about them as if they are not there. Regardless of language, ability or responsiveness level, they often understand more than you think, but are just unable to respond appropriately.
Use reality orientation wisely. Orientation is not important enough to confuse them further.

Validation therapy is the key. Respond to their feelings at each encounter.
For your Free In-Home Assessment, call 210.762.6460
Serving Communities: Alamo Heights, Castle Hills, Hill Country Village, Hollywood Park, San Antonio, Terrell Hills
Visiting Angels SAN ANTONIO, TEXAS
6391 DeZavala Rd #104
San Antonio, TX 78249
Phone: 210-762-6460