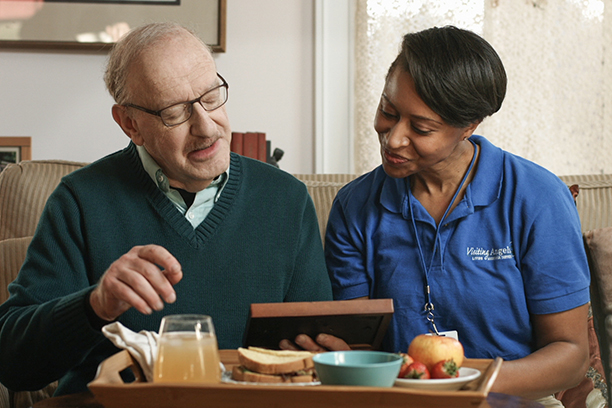 Visiting Angels Can Help Seniors in San Diego Enjoy Proper Nutrition
Our home care providers assist seniors in San Diego Metro, Mission Valley, Point Loma, and surrounding CA communities with planning and preparing meals
Old age is an inevitable part of life. Many physical and mental challenges usually mark it for seniors, including illness, mobility issues, and spending a lot of time at home alone. Visiting Angels of San Diego Metro offers personalized nutrition services to help seniors keep up with their health.
Meal prepping and planning is one of the primary home care services Visiting Angels San Diego Metro offers to seniors. Our professional caregivers can provide everything you need to help your loved one eat nutritious meals every day.
Eating a Healthy Diet in Senior Years
Proper nutrition is essential for human health throughout life, especially in senior years when we are not as solid or vital as we used to be. A healthy diet can keep chronic conditions under control, improve mood, prevent the development of new health problems, and much more.
Here's how we can help with our meal preparation service:
Picking up online grocery orders
Preparing delicious and nutritious meals and snacks throughout the day
Helping your loved one shop for groceries
Planning meals to make grocery shopping easier
Monitoring your loved ones and making sure they eat when needed
Feeding assistance for seniors with Parkinson's or other chronic health issues
To learn more about Visiting Angels of San Diego Metro, CA, or our home care services and meal preparation services, in particular, contact us today!

Serving Mission Valley, Point Loma, Kensington, the College Area and surrounding neighborhoods in Downtown, Uptown and Peninsula communities of San Diego, including Coronado
Visiting Angels
SAN DIEGO METRO AREA, CA
2615 Camino Del Rio S. #308
San Diego, CA 92108
Phone: 619-488-6265
Fax: 619-488-6311