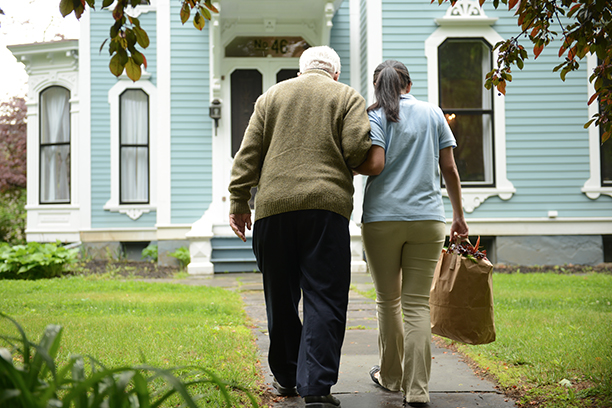 Essential Personal Home Care Services for Seniors in San Diego, CA
Mobility issues can significantly affect your loved one's quality of life. Simple tasks that were once completed with ease become too complicated and challenging for them to handle. Struggling with getting dressed, preparing a meal, showering, or moving around the house can be frustrating and overwhelming. Mobility issues can be caused by aging, illness, disability, or injury.
If your loved one is struggling with limited mobility, Visiting Angels San Diego can help them maintain their independence. Our personal home care services are designed to increase the quality of life and help our clients age safely at home.
Our essential personal care services can improve seniors' lives with limited mobility and strength issues throughout the San Diego area. Thanks to the compassionate and dignified care they provide and their ability to put seniors at ease, our caregivers are often considered family members by our clients.
Contact our San Diego, CA office at 619-488-6265 to learn more about how your loved one can benefit from our personal home care services.
How Can Personal Home Care Services Help Seniors in San Diego, Mission Valley, and Surrounding Areas?
At Visiting Angels San Diego, we strive to meet the specific needs of our clients. We manage to do so by building personalized care plans that address their unique requirements. This type of customized care is ideal for older adults dealing with health concerns such as diabetes, stroke, arthritis, or congestive heart failure.
Our trained caregivers can help your loved one in numerous ways, including:
Getting Started with Personal Care from Visiting Angels San Diego
If you want to get started with personal home care services for your senior loved one, please get in touch with our San Diego, CA, office and schedule a free in-home consultation.
Contact our main office in San Diego, CA, today to learn more!


Serving Mission Valley, Point Loma, Kensington, the College Area and surrounding neighborhoods in Downtown, Uptown and Peninsula communities of San Diego, including Coronado
Visiting Angels
SAN DIEGO METRO AREA, CA
2615 Camino Del Rio S. #308
San Diego, CA 92108
Phone: 619-488-6265
Fax: 619-488-6311