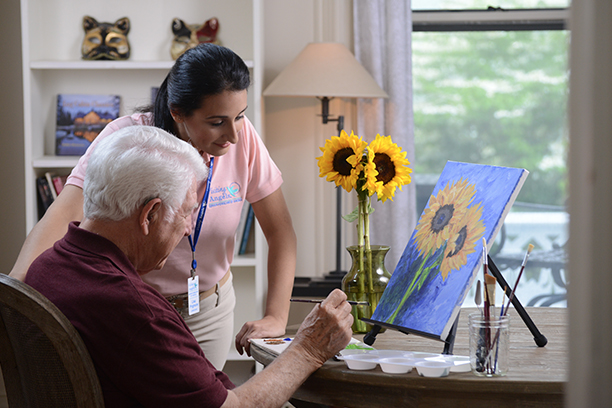 The Ready-Set-Go Home Program: How Our In-Home Supportive Services Reduce Rates of Hospital Readmission for Seniors in San Diego, CA and Surrounding Areas
Through the Ready-Set-Go Home program, caregivers from Visiting Angels helps seniors in San Diego, Coronado and surrounding areas in CA return home from the hospital and safely and comfortably recover from medical procedures in order to reduce the chances of readmission
For seniors who are returning home from a hospital stay, Visiting Angels San Diego offers the Ready-Set-Go Home program. Through this program, not only do we help seniors in Downtown San Diego, Uptown San Diego and the Peninsula area make the transition process easy and stress-free, but we also provide in-home supportive services in order to reduce the risk of being readmitted. Our goal is to help your loved one remain independent and lower the likelihood of having to return to the hospital due to illness or injury.
With Visiting Angels San Diego as your partner in senior care, you can have peace of mind knowing your loved one will be in good hands from hospital to home.
The Importance of Reducing Readmission Rates for Seniors
After being discharged from the hospital, seniors are at a high risk of readmission. This is usually because seniors can have a hard time following their doctor's recommendations for recovering at home due to age-related issues and a lack of in-home support. For example, eating a healthy diet can be hard for seniors who struggle with preparing their own meals due to mobility issues.
Having to go back to the hospital can cause seniors to lose their independence. About 20 percent of seniors on Medicare who are discharged end up back in the hospital within 30 days of being sent home. Many elderly adults who get readmitted have a lower chance of recovery, which complicates their ability to live on their own at home.
Learn More About the Ready-Set-Go Home Program from Visiting Angels San Diego
Through the Ready-Set-Go Home program, our caregivers provide much-needed support to seniors in Point Loma, Kensington, the College Area and surrounding neighborhoods in Downtown, Uptown and Peninsula communities of San Diego from hospital to home. We focus on making sure clients follow medical directives, safely return home and providing in-home supportive services to assist seniors with everyday tasks.
Our program offers a three-prong approach to transitional care:
While your loved one is still hospitalized, our caregivers with work with your family to offer guidance through the discharge process so you know what to expect. We can provide questions to ask your loved one's medical team and tips on preventing readmission.
When your loved one returns home, we will provide in-home supportive services that will aid in their recovery. Our caregivers can assist with tasks such as light housekeeping, meal preparation, running errands, providing medication reminders and so much more. In addition, we will also act as a second pair of eyes and eats and closely monitor your loved one. If we notice any changes in your loved one's well-being or notice that they're not following proper recovery protocols (such as skipping medication doses or not going to follow-up appointments), we will be sure to alert you.
Our office also provides additional support for families and caregivers. We have the tools needed to identify clients who are at a high risk of being readmitted so we can work with families on how to proceed. Additionally, our office team can provide medication and appointment reminders, coordinate medication and food deliveries and so much more.
To learn more about our in-home supportive services, contact our San Diego, CA office today.
Serving Mission Valley, Point Loma, Kensington, the College Area and surrounding neighborhoods in Downtown, Uptown and Peninsula communities of San Diego, including Coronado
Visiting Angels
SAN DIEGO METRO AREA, CA
2615 Camino Del Rio S. #308
San Diego, CA 92108
Phone: 619-432-4159
Fax: 619-488-6311