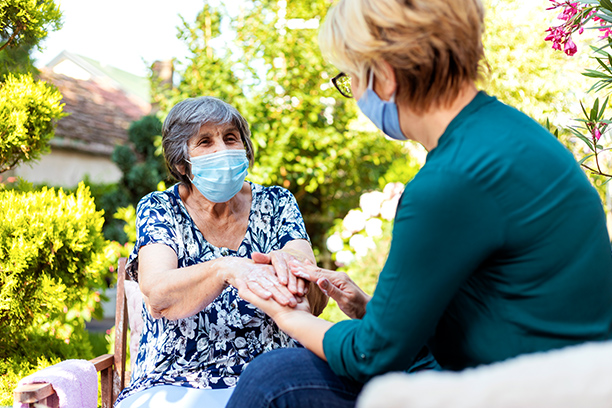 Providing In-Home Caregivers and Home Care Professionals for Seniors with Alzheimer's in the North Bay Area
At Visiting Angels, our in-home caregivers provide quality Alzheimer's care for seniors in San Rafael, Novato, Belvedere, Fairfax and surrounding areas in Marin County, CA
The Alzheimer's Foundation of America estimates that 5.1 million American's may suffer from Alzheimer's disease. Alzheimer's is a degenerative cognitive disorder that is characterized by progressive memory loss as well as a decline in reasoning skills and overall brain function. When your loved one has been diagnosed with Alzheimer's, you may feel overwhelmed or devastated. In this difficult time, it is important to remember that you have options that can help your loved one and your family.
Unfortunately, there is no known cure for Alzheimer's. Once someone has been diagnosed, there is no stopping it. However, there are many therapies and treatments that can slow the progression of the disease and can improve your loved one's quality of life. At Visiting Angels San Rafael, our in-home caregivers and home care professionals can offer your loved one the care they need throughout every stage of Alzheimer's.
A Guide to Identify 10 Warning Signs of Alzheimer's and How Our In-Home Caregivers and Home Care Professionals Can Help
If you're concerned that your loved one may be showing signs of Alzheimer's, it is crucial that you set up a doctor's appointment to check, and to get a care team ready if they are diagnosed with Alzheimer's. It is also important to be aware of the warning signs of Alzheimer's disease.
Alzheimer's Warning Signs
Memory loss that disturbs life on a daily basis.

Your loved one may have trouble remembering names, events, proper placement of household objects, and confusion about new information.

Mood or personality changes.

Your loved one may seem depressed, fearful, anxious, suspicious, or paranoid and may experience common mood swings, as well as disinterest in normal activities.

Difficulty planning or problem solving.

Your loved one may begin to have difficulty interpreting familiar recipes, keeping track of bills, and experiencing unusual challenges while trying to concentrate. Seniors may also "slow down" and take an unusual amount of time to complete tasks.

Disinterest in social or work events.

Seniors may begin to withdraw from social events and work activities.

Challenges with normal daily tasks.

Your loved one may begin to have a difficult time completing tasks that used to be normal and familiar to them at home or at work.

Poor judgement.

Seniors may have trouble making rational decisions that wouldn't have been an issue before. They may pay less attention to hygiene or fall for monetary scams.

Uncertainty about time and location.

Your loved one may have difficulty processing the passage of time. They might forget the date or season, and can often be confused about where they are.

Misplacing objects and inability to backtrack.

Seniors may place objects in strange places, accuse people of stealing, and have a hard time retracing their steps.

Difficulty with spatial relations and visual images.

Seniors may experience confusion and difficulty while reading and trying to determine distance.

New speaking or writing challenges.

Seniors may have a difficult time finishing their sentences or finding the right words to say. They might also have trouble understanding conversations or directions.
If you have a loved one who is showing any combination of these signs, take them to see a doctor immediately to be checked for Alzheimer's. Alzheimer's is not a normal step in the aging process and the earlier it is diagnosed, the sooner your loved one can receive care and treatment that may slow the progression of the disease.
At Visiting Angels, we offer Alzheimer's care services. With our Alzheimer's care, our in-home caregivers and home care professionals go to your loved one's home and provide care for as long as they need. For seniors with forms of dementia, full-time care is often necessary. Our home care professionals are dedicated to providing the best care to your loved one and keeping them safe.
Supporting Your Loved One With Alzheimer's
If your loved one has been diagnosed with Alzheimer's, it is very important to know how to best manage the disease. The more proactive you are the better.
If you or someone you love has Alzheimer's, here are a few steps you can take:
Educate yourself.

Create a support system.

Engage yourself or your loved one with brain stimulation.

Sort out financial, legal, and long-term care solutions.

Plan respite care or professional Alzheimer's care.
If your loved one has recently been diagnosed with Alzheimer's or dementia, now is the time to reach out for help from one of our in-home caregivers. You are not alone.
Contact our San Rafael, CA office at 415-233-9564 and ask about our Alzheimer's home care professionals to get a free consultation.
Serving Marin County and throughout the North Bay Region, including San Rafael, Belvedere, Fairfax, Novato and surrounding areas
Visiting Angels SAN RAFAEL, CALIFORNIA
77 Mark Dr #12
San Rafael, CA 94903
Phone: 415-233-9564
Fax: 415-499-1211
HCO #214700004