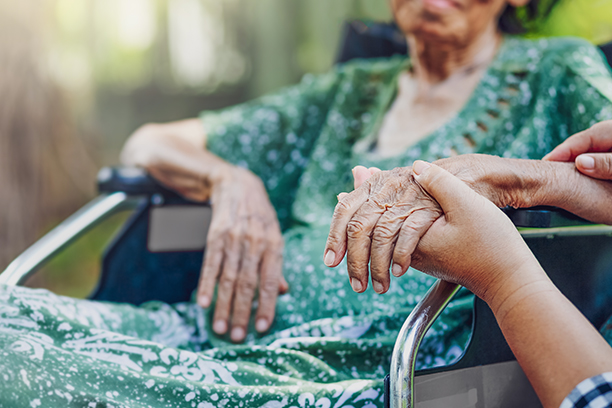 Palliative Care Provides Comforting In-Home Assistance for Seniors in Marin County
At Visiting Angels San Rafael, we provide meaningful comfort and support to seniors in San Rafael, Belvedere, Fairfax, Novato, and throughout Marin County through our palliative care services. We take a holistic approach to in-home care by focusing on our clients' physical, emotional, social and spiritual needs. With personalized, one-on-one care delivered by dedicated caregivers, you can have peace of mind knowing your loved one is in good hands.
What is Palliative Care?
Palliative services provide comfort and relief for seniors who are living with chronic conditions, age-related difficulties or who may otherwise benefit from receiving in-home senior care. It is similar to hospice care. However, hospice care is usually provided for those who are close to the end of their life. Palliative services can be provided regardless of life expectancy and is non-medical.
Benefits of In-Home Elderly Care from Visiting Angels San Rafael
At Visiting Angels San Rafael, we have a dedicated palliative care team that is committed to enriching the lives of the seniors in our care. Our program is rooted in a philosophy that emphasizes providing supportive, soothing and comforting in-home elderly care.
All of our caregivers are trained to approach senior care with a holistic mindset because we understand it's important to focus on more than our clients' physical needs. Seniors also have needs for social interaction, peace of mind and hope.
Our palliative home care services focus on:
Physical needs: We are trained to identify common signs of discomfort among our clients and provide essential services to alleviate these feelings
Emotional needs: Our caregivers provide much-needed compassion and understanding for seniors who are suffering from depression, loneliness, stress or anxiety
Social needs: We provide meaningful companionship and help our clients stay in touch with their loved ones
Spiritual needs: We focus on restoring hope to our clients' lives by helping them find comfort and relief from age-related issues and chronic illnesses
At Visiting Angels, we personalize our care plans for each and every client. We take the time to get to know the seniors we work with so we can factor their needs, schedule and personal preferences into a uniquely tailored approach to their needs.
To get started with our palliative home care services, contact our San Ramon, CA office today at 415-233-9564.
Serving Marin County and throughout the North Bay Region, including San Rafael, Belvedere, Fairfax, Novato and surrounding areas
Visiting Angels SAN RAFAEL, CALIFORNIA
77 Mark Dr #12
San Rafael, CA 94903
Phone: 415-233-9564
Fax: 415-499-1211
HCO #214700004