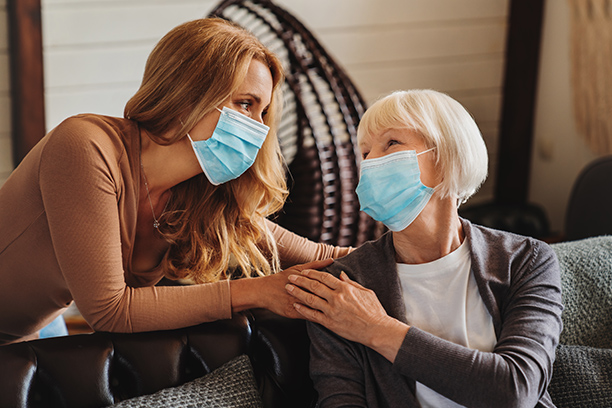 How Senior Caregivers Can Help Older Adults in Marin County Adjust to a New Normal during COVID-19
Our senior caregivers can provide guidance on helping seniors adjust to the "new normal" during the COVID-19 outbreak, as well as provide home care services to help seniors in San Rafael, Belvedere, Fairfax, Novato and surrounding areas in Marin County, CA stay healthy and safe
As an "Essential Healthcare Support Business" our team has continued to work with our clients and caregivers throughout this unprecedented time, allowing us to continue providing our much-needed care to those who need additional assistance and wish to stay in the safety and comfort of their own homes.
To do this, we have put several additional safety measures into place, which we will continue to implement to ensure the well-being of all of our clients and staff.
We're taking steps to ensure the safety of both our clients and our caregivers during this time. Find out more about our Protection Plan and how your loved one can safely receive essential care in the comfort of home.
Helping Seniors Stay Safe During COVID-19
Many people in Marin County and throughout the country have had to make drastic changes to their lives because of COVID-19, and seniors are no exception. While COVID-19 cases are dropping in some areas of the United States, public health experts still endorse taking safety measures to protect yourself and others from COVID-19.
As public spaces open up, it is important to continue social distancing, wearing masks, leaving the house infrequently and using technology to communicate. These new social rules may be disturbing or confusing to your senior loved one, especially if your loved one suffers from dementia or memory loss.
How can family caregivers and professional senior caregivers help your loved one adjust to the new normal?
Calmly Explain
If you have a loved one who has dementia or memory problems, it is important to frequently remind your loved one why they have to take such drastic preventative measures throughout their daily lives. These precautions can be confusing to seniors, and face masks can be especially distressing as they can make it more difficult for them to recognize familiar faces. Some seniors might try to resist these safety measures.
It is crucial that you remain calm and explain the real risks of COVID-19. Yet while honesty is essential, make sure to avoid creating unnecessary worry or panic. Let your loved one know that you or their caregivers are doing everything to keep them safe.
Prepare for Public Spaces
At some point, your loved one will have to leave the house for a doctor's appointment. You can help your loved one by preparing them for what they might come across outside their home.
If your loved one hasn't left the house in a while, you may want to explain that many people will be wearing masks and that your loved one will need to wear a mask as well. If your loved one is going to see the doctor, you should also explain that they might have to call the doctor's office from the parking lot to check-in.
Staying Connected
It's hard for all of us to avoid contact with friends and family. However, this can be especially distressing for older adults. Consider your loved one's risk factors and how your community is handling COVID-19 before deciding to let others into your loved one's "quarantine bubble." You can help your loved one by teaching them how to use new forms of technology, such as Facebook, texting and Facetime to keep in contact with the people they care about.
How Senior Caregivers from Visiting Angels San Rafael Can Help
If your loved one is having a difficult time adjusting to the new way of life during COVID-19, a home care provider from Visiting Angels San Rafael might be the solution you have been looking for.
Our senior caregivers can help your loved one in numerous ways, including:
Taking safety measures to keep your loved one safe from COVID-19 infection

Helping your loved one remain active and healthy while social distancing

Watching for COVID-19 symptoms

Assisting with transportation

Going shopping and running errands so your loved one can remain home

Helping your loved one maintain a healthy and familiar daily schedule
Our senior caregivers will also explain why these precautions are so important to your loved one and keep them safe during this difficult time.
If your loved one is having a difficult time adjusting to the social restrictions during COVID-19, call our San Rafael, CA office at 415-233-9564 and ask how a senior caregiver from Visiting Angels can help you.
Serving Marin County and throughout the North Bay Region, including San Rafael, Belvedere, Fairfax, Novato and surrounding areas
Visiting Angels SAN RAFAEL, CALIFORNIA
77 Mark Dr #12
San Rafael, CA 94903
Phone: 415-233-9564
HCO #214700004