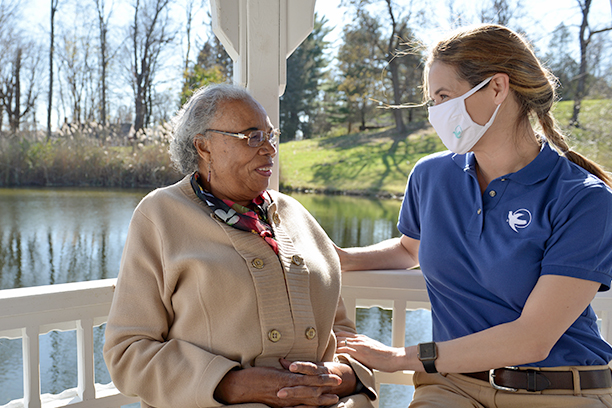 Companion Care from Registered Home Care Aides in Marin County
Expert companion care from Visiting Angels home care aides help independent seniors throughout the North Bay area of California find comfort
Visiting Angels is a caregiving agency serving seniors throughout Marin County and the North Bay area, including San Rafael, Mill Valley, Belvedere, Novato, Greenbrae, San Anselmo and Muir Beach. Our in-home senior care services make it possible for older adults to maintain independence at home as they age.
Even the most able-bodied seniors can benefit from meaningful companionship. Physical isolation and feelings of loneliness can be devastating on a senior's overall well-being. Regular visits from a friendly, compatible home care aide can help older adults maintain their mental and emotional well-being. With in-home companion care services from Visiting Angels, our goal is to help independent seniors stay socially active.
"I had a caregiver from Visiting Angels care for me during and after eye surgery. She drove me to and from the surgery center as I am not able to drive for a few days. I was quite nervous as it is eye surgery! My caregiver kept me calm and relaxed in the waiting room and even offered to go with me to meet the anesthesiologist prior to surgery. She came into the recovery room after the procedure and again kept me calm and helped me by writing down the post surgery instructions. She drove me home, made me lunch, and stayed by my side until I felt comfortable to me on my own. The next day, the same caregiver picked me up, drove me to the eye doctor for my follow-up appointment, and even went to the grocery store for me. Thanks to the caring team at Visiting Angels and my expert caregiver, I was able to be at ease and not worry so much about my surgery. She was intuitive and a true expert. I will definitely use Visiting Angels again and recommend them to anyone needing care. The office staff was also very professional, and called me as soon as they knew who would be caring for me. I appreciate the staff getting all of the many details buttoned up. The caregiver had all of the addresses ahead of time, leaving less for me to worry about. Hats off to Visiting Angels!"
- Mitch N.
How Companionship Can Help Seniors Age in Place
At Visiting Angels San Rafael, we know it can be stressful to determine the best care solution for an aging parent or other relative. For older adults who are still very independent, moving into an assisted living facility or nursing home may seem like too much. But you've recognized that a loved one needs help staying safe at their home. This is where companion care from Visiting Angels can help.
With our companion care services, clients are able to remain in their homes and stick to their preferred routine and lifestyle with help from a registered home care aide. Caregivers can provide assistance with daily living needs such as light housekeeping, laundry, meal planning and preparation, medication reminders and more. We can also help with getting to appointments or running errands.
Personalized, Reliable Care Throughout the North Bay Area
To ensure we are meeting the unique needs of each and every senior in our care, we work closely with clients and their families to create a custom care plan. This plan details the health and wellness concerns of each client and outlines specific tasks our home care aides will help with during each visit. As a client's needs change, so does the care plan. We can increase the number of caregiver visits, adjust the type of care provided, or modify in whatever way is needed.
If your senior relative has been struggling to live independently, now is the time to call Visiting Angels San Rafael. Our home care aides can make it possible for them to live safely at home where they are most comfortable.
Call our San Rafael, CA office at 415-233-9564 today to learn more about our companion care services.
Serving Marin County and throughout the North Bay Region, including San Rafael, Belvedere, Fairfax, Novato and surrounding areas
Visiting Angels SAN RAFAEL, CALIFORNIA
77 Mark Dr #12
San Rafael, CA 94903
Phone: 415-233-9564
Fax: 415-499-1211
HCO #214700004