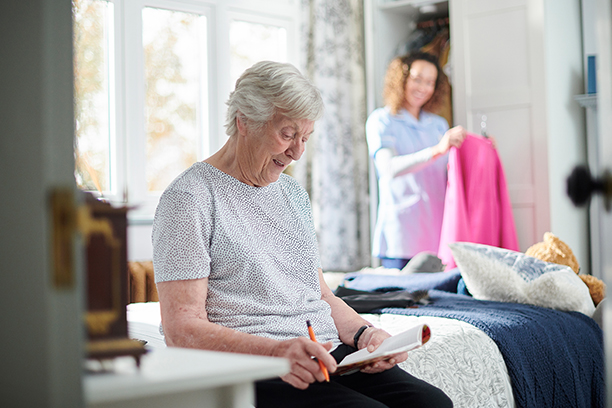 Professional Home Care Services for Seniors in San Anselmo, CA
Learn how in-home care from Visiting Angels San Rafael helps seniors in San Anselmo, CA get the support they need
Visiting Angels San Rafael provides quality home care services for seniors throughout Marin County that allows them to live independently. Instead of having to relocate to a nursing home or assisted living facility, your loved one can get the support they need right in their own home. With personalized care plans, flexible scheduling and compassionate caregivers, we've been one of the leading caregiving agencies for seniors in San Anselmo, CA and surrounding communities.
How Does Visiting Angels Help Seniors in San Anselmo?
Many seniors wish to live at home as they age. They've most likely lived in the same home for years, so not only is it comfortable, it's also familiar. Yet, living at home present numerous challenges for seniors. Age-related issues can make it difficult for seniors to complete everyday tasks like making dinner, folding laundry, or even getting to the bathroom. In addition, if your loved one has developed chronic conditions or illnesses, they will need professional home care services over time to make sure they stay safe and comfortable as they live out their golden years at home.
Visiting Angels San Rafael makes living at home less stressful for older adults in San Anselmo and throughout Marin County by providing personalized in-home senior care services. Our caregivers can assist with activities of daily living, provide essential support for conditions like dementia or arthritis and so much more.
What makes Visiting Angels San Rafael different from other home care agencies in Marin County is our commitment to personalized care. That means your loved one will receive the care they truly need. We consult with families prior to providing services so we can learn more about our clients' needs, schedule, preferences and more. This helps us create uniquely tailored care plans for each and every client.
Our caregivers will work around your loved one's schedule, not the other way around. Our services can be scheduled on an hourly basis and we're available weekdays, weekends and even holidays. We also have long-term care options and 24-hour care for seniors who need advanced, ongoing care at home.
Home Care Options Available in San Anselmo
Here are some of the many ways our caregivers can help your loved one:
Does your loved one need to follow a doctor-recommended diet in order to manage chronic health issues? Our caregivers can shop for fresh ingredients at the San Anselmo Organic Farm Stand, prepare delicious and nutritious meals and help your loved one plan meals for the week.
Does your loved one need help with taking care of the house? We can assist with light housekeeping tasks like washing dishes, doing laundry, changing bedsheets, cleaning countertops and more.
Is your loved one wearing the same clothes over and over or not bathing? Our caregivers can help with bathing, showering, grooming, dressing and other personal hygiene tasks.
Does your loved one need to take medication? Our caregivers can remind them when it's time to take their meds so they can stay on schedule.
Does your loved one need to go to a doctor's appointment? Our caregivers can provide incidental transportation.
Does your loved one live on their own? Our caregivers can provide meaningful and comforting companionship.
Contact our San Rafael, CA office at 415-233-9564 today to learn how Visiting Angels can help your loved one.
Serving Marin County and throughout the North Bay Region, including San Rafael, Belvedere, Fairfax, Novato and surrounding areas
Visiting Angels SAN RAFAEL, CALIFORNIA
77 Mark Dr #12
San Rafael, CA 94903
Phone: 415-233-9564
Fax: 415-499-1211
HCO #214700004