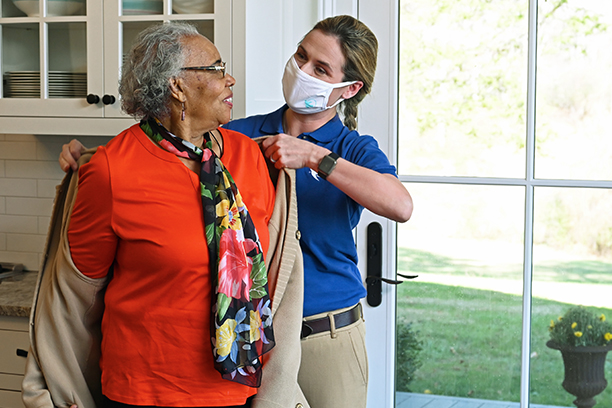 Returning Home from the Hospital with Reliable Elder Care Services from Visiting Angels San Rafael
Through the Ready-Set-Go Home program, Visiting Angels helps seniors in San Rafael, Belvedere, Fairfax, and throughout Marin County avoid hospital readmission by providing in-home care and support
Reducing hospital readmissions is a very important factor in ensuring a senior's health. Throughout the seniors that are currently on Medicare, around 30 percent of discharged parents end up back in the hospital within 30 days of being released. If a senior is re-hospitalized during that 30 day period, they have a lesser chance of recovering from their injuries.
"Because I live alone I was told by my doctor that I would need some assistance after my recent surgery. I was hesitant as I have never previously utilized the services of a home are company. I was more than pleasantly surprised when I contacted Visiting Angels. From the time my call was answered, I was met with caring and knowledgeable staff that answered all of my concerns in a courteous and respectful manner. I made an appointment for their nurse to assess my needs as well as provide me with suggestions to make my environment safer, prior to my surgery. She was amazing, experienced, kind and walked me through the entire process. Her concern for my comfort was incredible. I required around-the-clock care for the first few days I returned home, and I never once regretted my decision. For me, customer service , along with the healthcare assistance is vital, and all of my expectations were exceeded. Without reservation, I highly recommend Visiting Angels for anyone in need of some help at home."
- Liz B.
Our Ready-Set-Go Home program is designed to help seniors in Marin County achieve a successful transition back home after being released from the hospital. Throughout this time period, our caregivers provide in-home elder care services that support a safe transition home. Our program utilizes a three-prong approach that has been proven to prevent hospital readmissions for seniors.
Support During the Transition Back Home
The goal of our Ready-Set-Go Home program is to support a client's recovery plan. After illness, injury, or an extended hospital stay, a doctor will typically provide a long-term care plan that must be followed. It's common for adults, and seniors in particular, to need some assistance with implementing this recovery plan at home. This is where Visiting Angels can help. With our in-home elder care services, we can make the recovery process easier and reduce the likelihood of being readmitted.
To reduce hospital readmissions, Visiting Angels utilizes this three-prong approach:
At the Hospital: Our caregivers can help throughout the discharge process and provide valuable information on discharge planning. We also offer a "Ready-Set-Go Home" guide that gives detailed information on questions to ask doctors and nurses, hospital discharges in general and tips on reducing readmission risks.
At the Client's Home: To ensure your loved one's safety, we provide essential personal home care services to aid with everyday tasks and the recovery process. We know the reasons why may seniors skip appointments and don't follow doctor's orders. We stop those behaviors in order to give a client the highest chance of recovery.
At Our San Rafael Office: At our office, we will be working behind the scenes to provide your loved one with the support that they need to thrive. The staff at Visiting Angels San Rafael can provide medication reminders, transportation to appointments and help you coordinate food and medication deliveries.
Get Started with Visiting Angels San Rafael
If you would like to learn more about our Ready-Set-Go Home program or how a Visiting Angels caregiver can support recovery at home, simply call our office today at 415-233-9564! We're happy to answer your questions and will work with you to create a plan of care that best meets your unique needs.
>
Serving Marin County and throughout the North Bay Region, including San Rafael, Belvedere, Fairfax, Novato and surrounding areas
Visiting Angels SAN RAFAEL, CALIFORNIA
77 Mark Dr #12
San Rafael, CA 94903
Phone: 415-233-9564
Fax: 415-499-1211
HCO #214700004