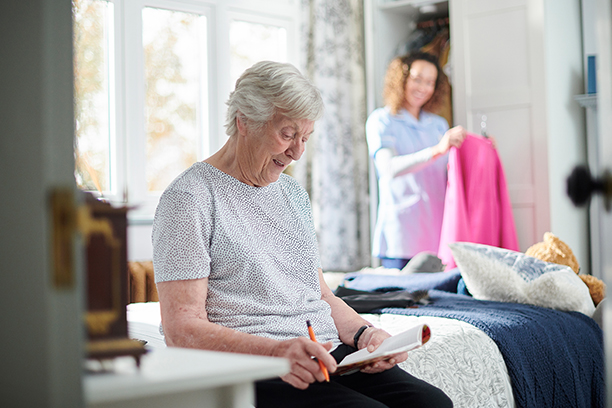 Proactive Personal Care Services for Seniors in the North Bay Area
Visiting Angels specializes in a proactive, client-centered approach to personal care services for seniors in Marin County, CA, and throughout the North Bay region
When searching for a professional home care agency in Marin County, it's important that you choose an agency you are comfortable with and that you believe will be committed to providing top-quality personal care services at all times. At Visiting Angels San Rafael, we are focused on providing proactive in-home care that includes keeping the lines of communication open between our registered caregivers and our clients.
Families in San Rafael, Novato, Fairfax, Belvedere and throughout Marin County all turn to Visiting Angels for in-home senior care services. Our caregivers are known for their commitment to providing a superior level of care each and every day. When you choose Visiting Angels for senior care services, you can be confident we will be standing by your side ready to help on a moment's notice.
"I can't say enough good things about Visiting Angels! Sara worked with us above and beyond to make sure shifts caring for my mother were covered - even when our needs changed quickly. I also can't say enough about the caregivers! My mom can be quite cantankerous and demanding, but Lorna, Ana, Michelle, Shamar... All were patient and attentive. We felt at ease sleeping at night, knowing she was in caring and capable hands. Highly recommend!"
- Linda R.
How Our Proactive Approach Benefits Seniors
At Visiting Angels, we understand when families are searching for personal care services, they're looking for providers who can provide the support their loved ones truly need and will keep an open line of communication with the family. Rest assured that when you choose us to be your partner in home care, you're choosing a team that will put your loved one and your family first.
Our certified caregivers strive to not just meet their clients' needs, but to anticipate changes and adapt to them on an ongoing basis. If our caregivers see a change in a client's behavior or routine, they will bring it to the attention of authorized family members.
With trained and experienced caregivers on staff, we are able to identify even small changes in our client's routines that can indicate potential areas of concern.
We also encourage our clients' families to reach out to us if they have any questions. We are always happy to answer questions and discuss the concerns of our clients. To help put your family at ease, our care coordinators also initiate follow-up checks with clients and their families. Follow-up checks are made via phone and in-home visits. We like to check in regularly to ensure client satisfaction and discuss any potential care plan adjustments.
Find out why families throughout the the North Bay area trust us for personal care services and call our office today at 415-233-9564 to learn more!
Serving Marin County and throughout the North Bay Region, including San Rafael, Belvedere, Fairfax, Novato and surrounding areas
Visiting Angels SAN RAFAEL, CALIFORNIA
77 Mark Dr #12
San Rafael, CA 94903
Phone: 415-233-9564
Fax: 415-499-1211
HCO #214700004