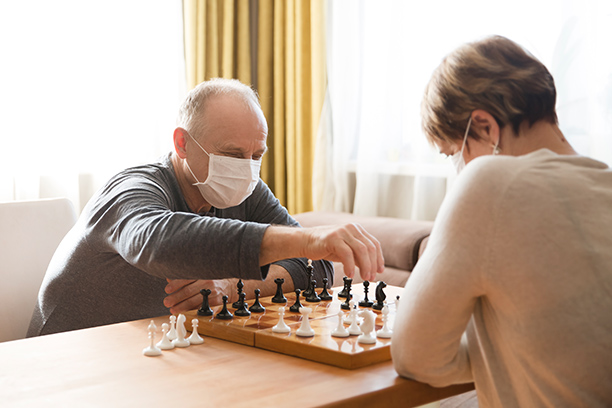 Learn More About Alzheimer's Home Care Options with Visiting Angels San Ramon
Visiting Angels can answer your questions about Alzheimer's home care options in San Ramon, Pleasanton, Danville, Lafayette and surrounding areas in Contra Costa and Alameda Counties
In the United States, approximately 5.5 million Americans suffer from Alzheimer's disease. Alzheimer's is a progressive, degenerative cognitive disorder that worsens over the span of several years. Seniors who suffer from Alzheimer's will experience memory loss, changes in behavior and personality, as well as overall mental decline. Alzheimer's is a terminal condition and most people live four to eight years after the initial diagnosis.
If you have a loved one who has been diagnosed with Alzheimer's, you may feel overwhelmed and probably have many questions. At Visiting Angels San Ramon, we can provide the answers you're looking for as well as exceptional Alzheimer's home care services. Learn more about Alzheimer's below.
Visiting Angels San Ramon Offers Facts About Alzheimer's and Alzheimer's Home Care Options
Differences Between Alzheimer's and Dementia
People often wonder what the differences are between Alzheimer's and dementia or if they are the same thing. Dementia consists of a wide variety of brain disorders that induce memory loss. Alzheimer's is a type of dementia and is the most common. To make this easier, everyone with Alzheimer's has dementia. However, not everyone with dementia has Alzheimer's.
Alzheimer's Risk Factors
While the exact cause of Alzheimer's is unknown, scientists have determined multiple risk factors. The three most common are advanced age, genetics, and poor heart health. If your loved one has high cholesterol, diabetes, hypertension, or has suffered from cardiac arrest or strokes, they will be at a higher risk for Alzheimer's.
Other risk factors include:
Exposure to polluted air

History of drinking, smoking, or head trauma

High stress

Sleeping problems
Alzheimer's Symptoms and Progression
As time goes by the symptoms of Alzheimer's will gradually become more severe. Many of these symptoms can be identified early on, though seniors may not show all of the symptoms at once until much later.
Symptoms include but aren't limited to:
Depression and irritation

Irrational behaviors and actions

Confusion about location or time

Short and long-term memory problems

Challenges with problem-solving

Misplacing items more frequently

Forgetting words or trouble completing sentences

Struggling with normal daily activities

Confusion about the names or identities of familiar people
Scientists believe that Alzheimer's may begin far before people show any indication that they have it. Because Alzheimer's progression is gradual, the first symptoms will be mild and probably barely noticeable. Yet as time goes on, symptoms will become moderate, and eventually severe. In the final stages, people may not be able to access any short or long-term memory, they may not be able to speak, use the bathroom, or eat food on their own.
At Visiting Angels San Ramon, we can help families prepare for Alzheimer's with our Alzheimer's home care services.
Alzheimer's Cure
Unfortunately, there is currently no known cure for Alzheimer's and its effects appear to be permanent. However, there are clinical trials that are aimed at slowing the progression of Alzheimer's.
Physicians advise seniors with Alzheimer's to live a healthy lifestyle, focusing primarily on cardiovascular health. Eating healthy, exercising regularly, getting a good night's sleep, taking omega-3 oils, and reducing stress can reduce the risk of Alzheimer's.
Alzheimer's Care Options
As your loved one's Alzheimer's progresses, you will find that they require more and more assistance to stay healthy and safe. As the disease reaches later stages, many families often require professional Alzheimer's home care aides.
For seniors with Alzheimer's, moving to an assisted living facility or a nursing home can be traumatic, distressing, and unfamiliar. To avoid this, many families choose to hire Alzheimer's home care services from Visiting Angels. Our caregivers at Visiting Angels San Ramon are experienced in helping seniors with Alzheimer's. The best part is your loved one can receive care in the comfort of their own home.
Our Alzheimer's home care program is designed to deal with the challenges that Alzheimer's presents as well as the personal preferences and needs of your loved one.
To learn more about our Alzheimer's care services, call our San Ramon, CA office today at 925-243-7726 to receive a free consultation.
Serving the East Bay and Tri-Valley areas including Walnut Creek, Pleasanton, San Ramon, Orinda, Danville, Concord, Moraga and throughout Contra Costa & Alameda Counties
Visiting Angels
SAN RAMON, CALIFORNIA
16 Crow Canyon Ct #200
San Ramon, CA 94583
Phone: 925-243-7726
Fax: 925 552-6589
HCO #074700004