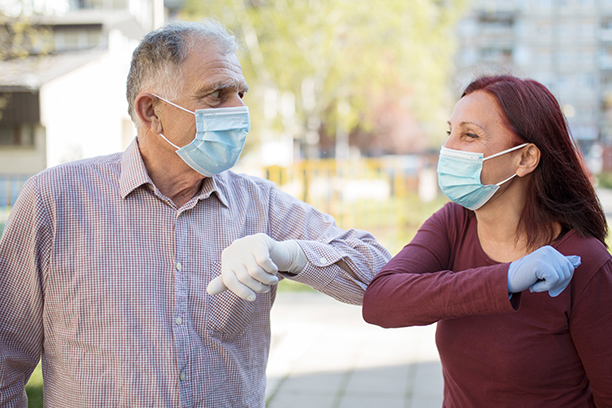 Know Your Options for Alzheimer's Care in Contra Costa and Alameda Counties
Visiting Angels provides exceptional Alzheimer's care to seniors in San Ramon, Lafayette, Pleasanton, Danville and nearby cities in Contra Costa and Alameda Counties
The Alzheimer's Foundation of America has determined that approximately 5.1 million Americans have been diagnosed with Alzheimer's disease. Alzheimer's is a progressive, degenerative cognitive disorder that is characterized by memory loss and a decline in cognitive functions. While there is currently no known cure for the disease, treatments exist that may slow mental decline and memory loss. For now, Alzheimer's is incurable and the damage it does to the brain appears to be irreversible.
However, the treatments and therapies that are available can allow people with Alzheimer's to experience a better quality of life for a longer period of time. If your loved one has been diagnosed with Alzheimer's, you probably have many questions. Our Alzheimer's care specialists at Visiting Angels San Ramon have provided a guide to identifying Alzheimer's as well as how to handle it.
Ten Signs of Alzheimer's
Memory loss affecting everyday life.

Seniors may experience trouble remembering recent events, placement of objects, names, and new information.

Difficulty making plans or problem-solving.

Seniors may experience difficulty remembering to pay bills, follow recipes, or concentrating. Seniors may also take much longer to complete tasks that were once easy for them.

Challenges with daily tasks at work or at home.

Seniors may experience difficulty and confusion with tasks that they never had trouble with before.

Behavioral changes or mood swings.

Seniors may experience increased levels of depression, fear, paranoia, and anxiety.

Removal from social events.

Seniors may withdraw from social events or work events.

Difficulty making rational decisions.

Seniors with Alzheimer's may be more prone to fall for monetary scams. They may also pay little attention to hygiene.

Misplacing objects.

Seniors may place objects in strange places and forget where they put them. They may accuse others of stealing from them.

Difficulty with spatial relationships.

Seniors may experience difficulty determining distances between objects and find themselves confused while reading.

Confusion about locations or the passage of time.

Seniors may forget where they are, the date, and the current season. They may have trouble comprehending the passage of time and can get confused about the identities of familiar people.

Trouble completing sentences and finding appropriate words.

Seniors may show signs of speech problems, trouble completing sentences, and difficulty reading or writing.
What if My Loved One Has Been Diagnosed with Alzheimer's?
If your loved one shows any of these signs, it is crucial that you contact their physician and have them evaluated for Alzheimer's. Alzheimer's disease is not a natural part of the aging process and should not be treated as such.
To deal with Alzheimer's effectively, you can follow these steps:
Educate yourself.

Arrange professional Alzheimer's care support.

Build a support system.

Cognitive stimulation. Listen to music, complete word puzzles, and play memory games.

Talk about future care, the end of life process, and wishes.
If you have a loved one who has Alzheimer's disease, now is the time to reach out for professional memory care. At Visiting Angels San Ramon, we offer top-notch in-home care for seniors with Alzheimer's and are dedicating to keeping your loved one safe and healthy.
To learn more about our Alzheimer's care services, call us at 925-243-7726 today and schedule a free consultation.
Serving the East Bay and Tri-Valley areas including Walnut Creek, Pleasanton, San Ramon, Orinda, Danville, Concord, Moraga and throughout Contra Costa & Alameda Counties
Visiting Angels
SAN RAMON, CALIFORNIA
16 Crow Canyon Ct #200
San Ramon, CA 94583
Phone: 925-243-7726
Fax: 925 552-6589
HCO #074700004