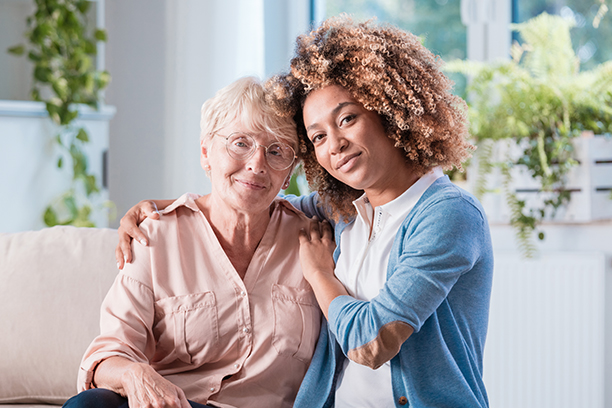 How Senior Care Providers Can Help Elderly Adults in San Ramon, CA and Surrounding Areas Adjust to the New Normal During COVID-19
Our home care providers can provide guidance on keeping seniors safe and helping them adjust to new health and safety guidelines during COVID-19, as well as provide dependable care
As an "Essential Healthcare Support Business" our team has continued to work with our clients and caregivers throughout this unprecedented time, allowing us to continue providing our much-needed care to those who need additional assistance and wish to stay in the safety and comfort of their own homes.
To do this, we have put several additional safety measures into place, which we will continue to implement to ensure the well-being of all of our clients and staff.
We're taking steps to ensure the safety of both our clients and our caregivers during this time. Find out more about our Protection Plan and how your loved one can safely receive essential care in the comfort of home.
Committed to Exceptional Client Care
Like most industries in the country, we too are experiencing the challenges of the current labor shortage and we are continuing our on-going efforts to hire additional staff members to keep up with the current increase in demand of our services. Rest assured we are doing everything in our power to employ quality, skilled caregivers to ensure that all of our clients are being cared for properly.
Please understand that your health is our highest priority, which means we are not willing to take any chances by sending a caregiver to your home if they feel at all unwell or have had a possible COVID exposure. For this reason, we may be forced to ask them to stay home and not report to work.
We apologize in advance if this happens with one of your caregivers and will do everything we can to find a substitute, if possible. We know that this is not the desired option, but we are committed to your well- being and do not take these situations lightly.
We thank you in advance for your understanding if this situation should occur and want you to know that we will always maintain our commitment of giving our best efforts to safely care for you.
This Covid-19 era has been a challenging, frustrating, exhausting and unsettling time for all of us, but we will continue to provide the finest care possible for you, our most valued priority, to the best of our abilities, and we are very grateful for your patience in the face of any setbacks that may occur.
Helping Seniors Stay Safe During COVID-19
People in Contra Costa and Alameda Counties and across the nation have had to change the way they live their lives due to COVID-19, and seniors are no exception. While COVID-19 cases have seemed to be declining in a few areas of the United States, public health experts are still suggesting people take precautions to stop the spread of the virus.
As public spaces reopen it is important for people to wear masks, social distance and limit trips outside of the home. Using technology to communicate when possible is also recommended. However, all of these precautions may be confusing or upsetting to your elderly loved one, especially if they suffer from dementia.
So how can care providers such as family caregivers and professional home care aides help seniors in Contra Costa and Alameda Counties adjust during this difficult time?
Explain Calmly
If you have a loved one with dementia or some kind of memory disorder, you may have to remind them often about why these safety precautions are necessary. They may be confused as to why everyone is wearing masks or why they are unable to go visit friends and family. Masks can also create a lot of confusion for seniors with dementia, as it makes it more difficult for them to recognize familiar faces.
To help your loved one understand, calmly explain the situation to them. It is imperative that you tell them about the risks of COVID-19, especially if they live in a nursing home or an assisted living facility. However, you want to avoid making your loved one worry too much. Causing unnecessary anxiety or fear is not helpful. Reassure your loved one in a calm voice that you will do everything to keep them safe.
Prepare for Public Spaces
When your loved one leaves the house, as they will have to eventually for doctor's appointments, make sure your loved one is prepared. Let them know what they might encounter or experience during their outing, that people will be wearing masks and that your loved one will have to wear a mask. If they are going to the doctor's office, they may need to call the front desk from the parking lot to check-in and have their temperature taken.
Stay Connected
It has been a challenge for all of us to avoid seeing friends and family in person, and this is even more difficult for seniors. Seniors that aren't familiar with modern technology can feel especially isolated. If you are going to introduce others to your loved one's "quarantine bubble," take into account how your community is dealing with COVID-19 as well as your loved one's risk factors beforehand. If you feel that your loved one is not healthy enough to go out or receive visitors, explain this to your loved one.
How Our Home Care Providers Can Help
If your loved one is struggling to adjust to the new social restrictions during this time, having a home care provider from Visiting Angels San Ramon might be the answer you've been looking for.
Our caregivers can help your loved one adapt to the new lifestyle in the age of COVID-19 in many ways, including:
Taking precautions to prevent your loved one from getting COVID-19

Watching for symptoms of COVID-19

Helping your loved one remain active and healthy

Helping your loved one learn how to use technology to communicate through our Social Care program

Helping your loved one maintain a comfortable daily routine

Running errands for your loved one so they can stay home

Providing transportation
Our care providers can also assist with a number of different daily activities, such as light housekeeping, preparing meals, dressing, grooming and more. Our caregivers will explain to your loved one why they need to follow the new safety precautions due to COVID-19.
If your loved one is having a hard time getting used to the social restrictions in place because of the pandemic, a home care provider from Visiting Angels can make sure your loved one is safe and supported during this unprecedented time.
Call our San Ramon, CA office at 925-243-7726 and ask about how our care providers can help you.
Serving the East Bay including Walnut Creek, Pleasanton, San Ramon, Orinda, Danville, Concord, Moraga and throughout Contra Costa & Alameda Counties
Visiting Angels
SAN RAMON, CALIFORNIA
16 Crow Canyon Ct #200
San Ramon, CA 94583
Phone: 925-243-7726
Fax: 925 552-6589
HCO #074700004