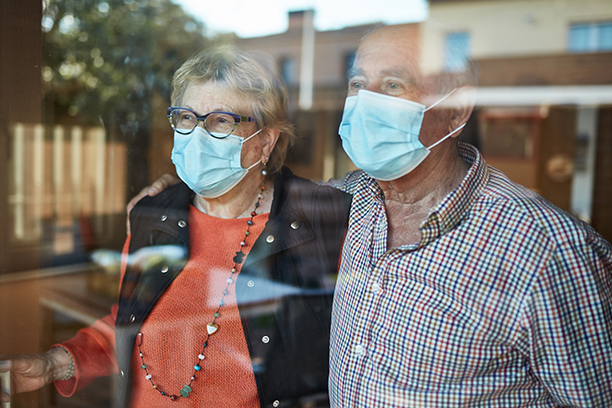 Personalized Long-Term Care for Seniors in Contra Costa and Alameda Counties
Oftentimes, when an elderly relative or family friend starts struggling with living on their own, family members take on the role as their caregiver. If your senior loved one is living with a chronic illness or condition, it may become more difficult to provide the care they need. If this sounds like your situation, rest assured that Visiting Angels San Ramon can provide the support your loved one needs while giving you peace of mind.
In addition to providing temporary and short-term senior care services, Visiting Angels also offers long-term care options for elderly and disabled adults in San Ramon, Walnut Creek, Pleasanton, Orinda, Danville, Concord, and throughout California's East Bay region. Your loved one will be in good hands when you count on our experienced, registered caregivers.
Why Choose Long-Term Care from Visiting Angels?
There are many options in Contra Costa and Alameda Counties for seniors who need care and support for more than a couple hours a day. Assisted living facilities and nursing homes were originally popular solutions when family caregivers can no longer provide the level of care their loved ones need. However, residential facilities can make seniors feel like they don't have the freedom they once have. This is one of the reasons why in-home care has increasingly become a preferred choice for elderly adults. However, now the challenge is finding an agency that can provide the care your loved one needs to remain in their own home for as long as they need.
When you choose Visiting Angels for long-term care, you're choosing a home care agency that focuses on delivering personalized, one-on-one care for seniors. We understand that no two seniors have the exact same needs, so we don't believe in a "one size fits all" approach to care. Our team will work with your family to create a care plan that includes the specific services your loved one needs. In addition, we will work with your loved one's schedule so they can get the care they truly need when they need it most. We also encourage clients to choose their preferred caregiver from our team based on their needs, personality, and other factors. That way, Visiting Angels can provide the level of care your loved one needs to comfortably and safely age in place.
Long-term care best benefits seniors who have advanced age-related issues or are living with a chronic condition. Our caregivers can help your loved one as they manage their symptoms, assist with Activities of Daily Living (ADLs) like making meals and tidying up the house, and increase the amount of "good days" your loved one has. In addition, long-term support also helps seniors who are living with dementia. Since our services can be adjusted at any times, our caregivers can adapt their approach based on your loved one's well-being and how far their dementia has advanced.
What is Long-Term Care Insurance?
We understand that needing long-term support for a senior loved one doesn't come cheap. Many older adults look into options for long-term care insurance, which can be used to offset the cost of care in your loved one's golden years.
If your believe your loved one has an insurance policy, our team can work with you to determine if it can cover the costs of our services.
In addition, since our care plans are completely personalized, you won't be paying for any services your loved one doesn't need to remain independent. Our goal is to find a balance between quality and affordable home care.
If you'd like to schedule a free in-home consultation and learn how our home care services can help your loved one, contact our San Ramon, CA office at 925-243-7726 today!
Serving the East Bay and Tri-Valley areas including Walnut Creek, Pleasanton, San Ramon, Orinda, Danville, Concord, Moraga and throughout Contra Costa & Alameda Counties
Visiting Angels
SAN RAMON, CALIFORNIA
16 Crow Canyon Ct #200
San Ramon, CA 94583
Phone: 925-243-7726
Fax: 925 552-6589
HCO #074700004