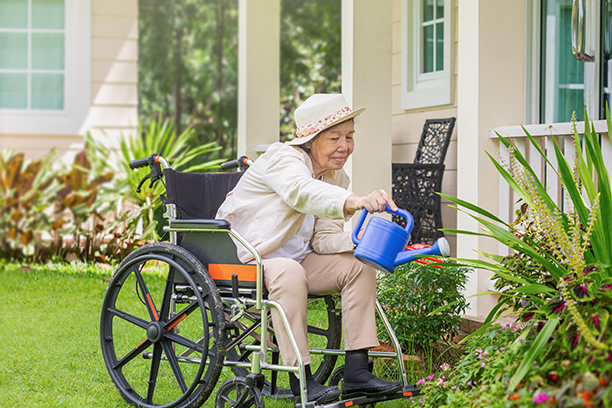 Overnight Care for Seniors in Contra Costa and Alameda Counties
The majority of the time, older family members only require a few hours of support throughout the day. Having someone there to help and keep them company may be more than enough for many elderly people who have difficulty doing simple daily duties on their own due to age-related difficulties.
But some seniors may need more extensive care around the clock. Having someone watch after a loved one at all hours of the night is a typical issue for families in Walnut Creek, Pleasanton, San Ramon, Orinda, Danville, Concord, Moraga and surrounding areas. Overnight care may help if your loved one is at risk of wandering, having to use the toilet or other concerns due to old age or a serious sickness or injury.
At Visiting Angels San Ramon, we're here to help if you or a loved one requires home care at night. Our team has been helping elderly and disabled adults throughout Contra Costa and Alameda Counties for many years. We provide overnight care for seniors to help our clients sleep peacefully through the night and assist when necessary.
Why Do Easy Bay Seniors Choose Visiting Angels?
When you choose overnight care for seniors from Visiting Angels, you're hiring a company that will prioritize the needs of your loved one. Because we believe in providing senior care that is as unique as the people we serve, we create individualized care plans for each and every one of our clients. In order to keep your loved one's evening routine, our care coordinators will work with their schedule and come up with a plan of care that incorporates all of the services they genuinely need.
Our caregivers can help your loved one with:
Medication reminders
Light housekeeping
Incontinence care
Personal hygiene assistance
Mobility assistance
And more
Benefits of Overnight Care for Seniors
For Seniors Who Have Dementia
If your loved one has dementia, they may forget to do things like turn off the oven or lock the front door before going to bed. Our caregivers can remind your loved one to complete important tasks and assist them in developing a bedtime routine. Additionally, wandering is a common sign of dementia. If your loved one tends to wander off during the night, they might get sick or hurt. Our overnight care for seniors includes keeping clients from wandering, so our caregivers will make sure your loved one stays in their home all night. In addition, since we specialize in providing one-on-one care, your loved one will always have a familiar presence with them to keep them company.
For Seniors with Chronic Illnesses
Some chronic illnesses can make it hard for seniors to do things on their own. If you are unable to help your loved one throughout the night, hiring a professional caregiver from Visiting Angels can guarantee that they get the assistance they need. For example, our caregivers can remind your loved one to take their medication before bed or help them change the bedsheets in the event that they have an accident. To top it all off, we can keep an eye on your loved one and notify you if any of their symptoms are interfering with their ability to sleep well.
For Seniors Recovering from an Injury or Surgery
If your loved one has been released from the hospital after surgery or recovery from a serious accident, they may still need assistance with daily duties since it may be too physically exhausting to do them on their own. Our caregivers can assist your loved one get into and out of bed safely, take a bath or shower and take care of other personal hygiene needs before they go to bed. To avoid further injury or post-surgery difficulties, if they need to get up in the middle of the night, our home care providers can assist them in moving safely from one room to another or up and down the stairs.
When providing overnight home care for seniors in the East Bay area of California, our goal is to help seniors stay safe and comfortable at night while giving families peace of mind.
Call our San Ramon, CA office at 925-243-7726 to learn more about overnight care for seniors.
Serving the East Bay including Walnut Creek, Pleasanton, San Ramon, Orinda, Danville, Concord, Moraga and throughout Contra Costa & Alameda Counties
Visiting Angels
SAN RAMON, CALIFORNIA
16 Crow Canyon Ct #200
San Ramon, CA 94583
Phone: 925-243-7726
Fax: 925 552-6589
HCO #074700004