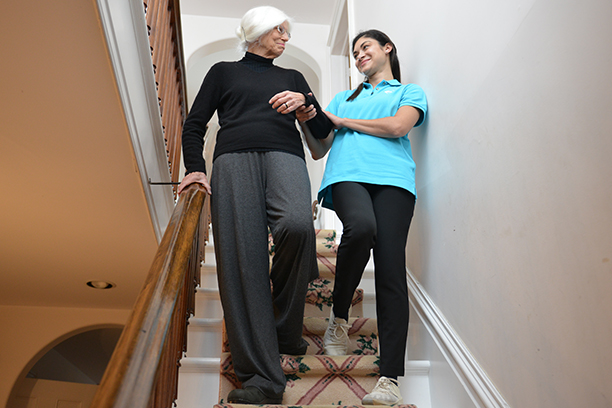 How Can Professional In-Home Care Help Seniors in Contra Costa and Alameda Counties?
As you begin to search for professional in-home care options in San Ramon, Danville, Lafayette and surrounding areas in Contra Costa and Alameda Counties, you may be confused as to what type of care is right for you. At Visiting Angels, we're here to help.
It can be hard to clearly define what home care exactly is because the definition is unique to each and every client. Home care for seniors should cater to every client's wants, needs and scheduling in order to provide the best care possible. At Visiting Angels San Ramon, we are dedicated to providing the excellent care that you deserve.
We've spent decades in the senior care industry. We've provided care for thousands of families throughout Contra Costa and Alameda Counties and we've experienced every background, schedule, and circumstance possible. We've seen it all, and we'd be more than welcome to deliver that high level of expertise to you and your loved one. You can ask us any question that you may have about our services, and we'll have an answer for you. There may seem like there's a lot to choose from in the world of senior care, but we'll help you find exactly what's right for you.
Why Visiting Angels is the Leading Provider for Seniors in Contra Costa and Alameda Counties
It often takes time to order to research the exact right option for senior care. But, sometimes, life doesn't give us that luxury to work with. If you're in need of immediate care, we can be there for you as well. We've trained our caregivers through many different situations including late day discharges from a medical facility, assisted-living bedside care and discharge from a rehabilitation center.
Also, if your loved one is going through a transitional period, we can help make it as smooth as possible. For example, we can help them move from a hospital to a loved one's residence.
There are many ways that we can help ease the burdens of finding the right in-home care services, including:
Scheduling an appointment to discuss costs, scheduling, and types of care
Setting up an in-home visit
Creating a personalized care plan
Coordinating a meeting with a caregiver
Modifying the care plan as needed through constant communication and monitoring
If you'd like to learn more about our in-home care services or arrange a free in-home consultation, contact our San Ramon, CA office at 925-243-7726 today.
Serving the East Bay including Walnut Creek, Pleasanton, San Ramon, Orinda, Danville, Concord, Moraga and throughout Contra Costa & Alameda Counties
Visiting Angels SAN RAMON, CALIFORNIA
16 Crow Canyon Ct #200
San Ramon, CA 94583
Phone: 925-243-7726
HCO #074700004