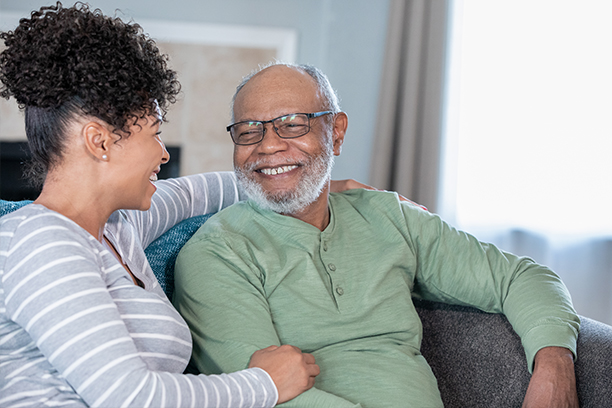 Find Home Care in Orcutt
Choose a locally owned and operated home care agency to meet the age-related needs of your loved one in Orcutt. At Visiting Angels® Santa Barbara, we know that seniors typically want to spend their time at home. Our caregiving services help them do so while remaining secure and maintaining a comfortable quality of life.
Instead of having to move out of their home to get the care they need, your loved one can stay right where they are and enjoy professional support. Our caregivers work closely with seniors and their families in:
About Our Home Care in Orcutt
Our services are not only wide-ranging; they are also totally customizable. This means you can look forward to your loved one being cared for by a professional caregiver, no matter what kinds of age-related issues they deal with along the way.
For example, we can help out with activities, including those in this brief list below:
Walking, mobility, and transference
Taking a bath and getting dressed
Toileting and grooming routines
Socialization, hobbies, and conversation
Light chores and homemaking activities
Running errands and picking up groceries in the Orcutt area
Preparing meals and snacks as needed
Remembering important medication schedules
Our Approach to Setting Up Home Care in Orcutt
We'll adapt our approach to caregiving based on the unique situation of your family and the needs of your loved one. We will guide your family through the following simple steps as we help you arrive at a care solution that gives both you and your loved one a sense of peace and confidence about the future:
An introductory phone call. Inform us about your search for home care and get your general questions answered during a brief call to our office. We will then coordinate with you to schedule your complimentary consultation.
A free home care consultation. We want to answer all of your questions in person during a free consultation as we learn more about the different aspects of your loved one's everyday life and aging process.
Crafting a custom care plan. We will start outlining a care plan unique to your loved one during their free consultation. This care plan will include a suggested care schedule and the services we will provide to help your loved one thrive and stay safe at home.
Making a professional caregiver match. Finally, our professional care coordinators will choose the caregiver from our team who can not only offer all the services on your loved one's care plan, but also make them feel comfortable thanks to a great personality match.
Companion Care Services
Seniors who spend significant chunks of time on their own may be at risk of feeling isolated and lonely, which can in turn impact their health and well-being. Companion care ensures seniors have the companionship they are often craving and also includes basic assistance that makes everyday life at home more comfortable.
Respite Care Services
Taking on the task of caring for a loved one and meeting their age-related needs may feel like an obligation, but it's important to know that you are not obligated to care for them on your own. We all need a break now and then, and family caregivers especially need to protect their energy and well-being in order to offer attentive care.
Respite care services can give you the gift of temporary coverage, so you can concentrate on self-care and other priorities that you have been putting to the side while caring for a loved one.
Personal Care Services
The aging process brings different challenges to different people, but many seniors at some point find that they are no longer able to complete certain activities on their own. From getting dressed to taking a shower and completing grooming tasks, these activities are an essential part of their daily routine and are crucial to their well-being. Our home care providers give seniors a reliable helping hand, so that they can safely and comfortably enjoy each day at home.
Dementia Care and Alzheimer's Care
It can be scary to witness a loved one's memory fading, and a diagnosis of Alzheimer's disease or dementia may feel like it is upending your life as well as your loved one's. Our home care programs dedicated to dementia care and Alzheimer's care can bring more stability to your family's situation by making it possible for your loved one to stay home while coping with their serious symptoms.
Transitional Care in Orcutt
If someone you care about has been hospitalized because of an injury or serious illness, we can support them as they transition back home. We can help them get the follow-up care they need to avoid readmission to the hospital.
With our Ready, Set, Go Home program, families can feel secure knowing their loved ones have help with reducing their risk of hospital readmission and related complications. This program consists of support within the hospital, care during the transition itself, and help at home to promote a smooth recovery.
Fall Prevention Support
Year after year, falls are one of the main factors causing serious injuries among elderly adults. If you are concerned about the fall risks your loved one is facing, our Safe & Steady Fall Prevention program may be the right choice for you.
We can match your family with a caregiver who can evaluate your loved one's personal risk factors, such as mobility restrictions or vision issues. Then, they can suggest improvements to make the home a safer place and also provide assistance with walking, transferring, and general mobility.
Social Care Services
Elderly adults often want to maintain relationships with friends and family who live far away, but have trouble doing so due to an unfamiliarity with technology. Our Social Care program provides these individuals with kind and patient instruction in fun and interesting technology tools that can allow them to more easily stay in touch with the people they love.
Get Started with Home Care in Orcutt Today
To get started with a complimentary home care consultation in the Orcutt area, contact our local office at (805) 284-0221 today!
Serving Ojai, the Santa Barbara Communities & the Santa Ynez Valley
Visiting Angels
SANTA BARBARA, CA
5565 Carpinteria Ave #1
Carpinteria, CA 93013
Phone: 805-284-0221
Fax: 805-284-0223
HCO #424700015