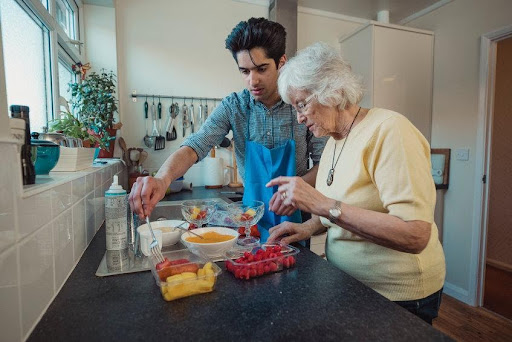 Helping Seniors Stay Healthy During the Holiday Season
The holiday season welcomes a flurry of activities, traditions, and delectable treats. While many families look forward to gatherings and special events, the holidays can be a source of stress for some seniors. Rich holiday meals make it challenging for seniors to follow their specific diet. Holiday activities may disrupt a senior's exercise routine. Seniors who don't want to burden their families might not express that they're fatigued.
Keep the following tips in mind to help seniors stay healthy during the holiday season, reduce their stress, and prevent the holiday blues.
Include Healthy Food Choices
The holidays are often seen as a time to indulge in delicious, rich foods. Although these foods are great for the tastebuds, they can cause digestive discomfort for many older adults. Be sure to include healthier options for your elderly family member to eat. Offer fruits and vegetables that are easier on the tummy than side dishes filled with decadent ingredients. If you're a senior attending a dinner party, plan ahead by eating a lighter lunch. Serve yourself smaller portions of the more decadent foods so you can still enjoy a taste without suffering the consequences later.
Encourage Hydration
Seniors have an increased risk of dehydration. Between a diminished thirst response due to age and the side effects of prescription medications that many seniors take, staying hydrated can be challenging during the holiday season. To make this easier, seniors should ensure that they always have water readily accessible at home. It's also a good idea for seniors to carry a water bottle with them while running errands. If you're a family member who's hosting an elderly relative, offer them a glass of water and keep it filled during their visit.
Stay Active
The holidays are often the busiest time of the year. However, staying active even during the holiday season is vital for older adults. It takes longer for older adults to rebuild endurance and muscle mass after stepping away from exercising. Seniors should make exercise a priority, even amid the holiday season. Family members can help by offering to go for a walk together.
Revisit Handwashing Habits
The holidays present more opportunities for germs to spread as families and friends gather to celebrate. Another way seniors can stay healthy this holiday season is to brush up on basic handwashing hygiene. Proper handwashing techniques involve wetting the hands, applying soap, scrubbing the soap all around for 20 seconds, rinsing, and drying with a clean towel. In addition to washing hands after using the bathroom and before and after meal preparation, seniors should develop the habit of washing their hands immediately after returning home. Families can help keep their elderly relatives safe and healthy by washing their hands before they begin their visit.
Take Breaks
The holiday season can quickly fill a senior's social calendar. There's often little room for a senior to rest between extended family gatherings and opportunities to participate in festive events. Fatigue can quickly set in. Overexertion can lead to a rundown immune system. It's important that seniors build breaks into their holiday schedules. Schedule time to rest, even if it's a short nap before an evening out. Family members should be aware of their older relatives' limitations and pay attention to signs of fatigue their relatives may display. Should an older relative look tired, encourage them to rest in a quiet space.
With a few preventive measures, seniors can stay healthy while still making the most of the holiday season with their family members. Another way seniors can stay healthy this holiday season is to partner with Visiting Angels of Santa Clarita. We offer a variety of personal home care services that enable seniors to age in place. Whether you need assistance with planning and preparing healthy meals or are looking for someone to escort you on a walk so that you remain active, we are here to help. We work closely with each client to create a customized home care service plan that meets their specific needs.
You can find top-quality senior care services at Visiting Angels of Santa Clarita. Please get in touch with us today by calling 661-263-2273 to learn more.
Visiting Angels Santa Clarita, CA
https://www.visitingangels.com/santaclarita/home