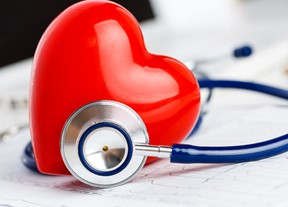 Keep Your Heart Healthy with These Five Tips
The heart affects all other areas of the body. It's responsible for pumping about 2,000 gallons of blood filled with oxygen through the body each day. It beats roughly 115,000 times in a day. Approximately the size of a human fist, the human heart is crucial for survival. That's why it's so important that older adults do everything they can to keep their hearts healthy.
February is American Heart Month. The American Heart Association urges older adults and their families to learn more about heart disease and lifestyle changes they can make to prevent heart disease. While some risk factors can't be changed, such as ethnicity, family history, and age, other risk factors within each person's control can reduce their heart disease risk. Take control of your health and keep your heart healthy with these five tips.
Take Control of Portion Size
Today, most older adults know they should eat fewer fatty foods and eat more nutritious foods. However, portion size is just as important as the types of foods you consume. Avoid overloading your plate or indulging in seconds if your belly is full. Use smaller plates or bowls at home to help you eat more proportionately. Recognize that most restaurant portion sizes are abundant. Order a half-portion or only eat half and save the rest for another meal.
Take Steps to Quit Smoking
Older adults who smoke have a greater risk of a heart attack. Although some may think it's too late to reverse the effects of smoking, the truth is that it is never too late to give up smoking. Even after just 24 hours of not smoking, the risk of heart disease decreases. The risk of heart attack or stroke is reduced by half within the first year of being smoke-free for otherwise healthy adults. If you are a smoker and ready to kick the habit, schedule an appointment with your primary care physician to discuss methods to help you quit.
Make More Efforts to Move
Regular physical activity lowers the risk of heart disease significantly. Exercise also helps to manage or reduce other chronic health conditions that contribute to heart disease. Keep your heart healthy by making more effort to move. The American Heart Association recommends exercising for at least 150 minutes per week. However, if this goal is too lofty, don't let it prevent you from moving at all. Start small with a brisk walk and add more active minutes to your day as your endurance builds.
Make Sleep a Priority
Quality sleep is essential for keeping your heart healthy. Sleep allows blood pressure to lower, and the heart rate drops, reducing the stress on the heart. This allows the heart to recover from the day's strain. Older adults who don't get adequate sleep or suffer from fragmented sleep increase their heart disease risk, heart attack, and stroke. Lower your risk of heart disease by aiming to get at least seven hours of consecutive sleep each night. Go to bed at the same time each night, turn off screens an hour before bedtime, and try calming techniques to quiet your mind before heading off to dreamland.
Take Your Emotional Health into Consideration
A healthy diet and exercise are undoubtedly essential for a healthy heart, but many older adults overlook their emotional well-being. Emotional health is just as important for maintaining a healthy heart as is physical health. Consider how your emotions may be affecting your heart. If you're prone to feeling anxious, depressed, or stressed, find healthy ways to cope. Avoid turning to food or isolating yourself from others as coping mechanisms. Instead, have a candid conversation with your doctor to discuss chronic feelings of anxiety or depression. Manage stress by going for a walk, practicing yoga or meditation, or talking with a trusted friend.
If you're looking for more ways to keep your heart healthy, look no further than Visiting Angels of Santa Clarita. Our caregivers are second to none when it comes to assisting older adults with tasks such as healthy meal preparation, safe walks and exercises. They genuinely form a companionship with each of their clients, providing them outlets to socialize and vocalize feelings of stress, anxiety, or loneliness. Getting started is as easy as contacting us through our website or by calling 661-263-2273.