Prevent Wandering with Dementia Care Services in Santa Monica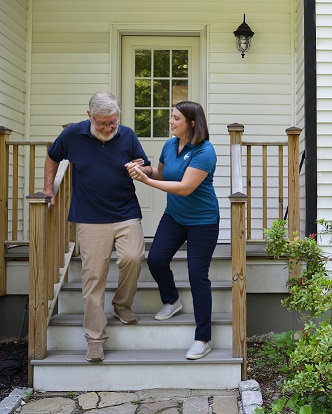 When a loved one is diagnosed with dementia, your first step should be to create a plan for their support. Those with the disorder will require more and more assistance as time goes on, and it just isn't practical to provide all of this on your own. Fortunately, with our dementia care services, Visiting Angels® Santa Monica is here to help. We offer kindhearted and diligent in-home support from fully-vetted senior care professionals.
With our flexible and customized dementia care, you can have a wonderful caregiver around as often as you need. This will help your loved one to live a safer, easier, and more comfortable home life while securing vital rest for yourself.
Our goal is to help each family navigate through this tough time in the most effective way possible. As part of that effort, we aim to educate family members about the effects of dementia. One of the more troubling aspects of this disorder is that it often causes seniors to panic and wander away from friends and family. This is due to a sudden loss of their ability to recognize familiar faces and settings. To help you reduce this stressful problem, let's go over some of the warning signs.
Warning Signs of Wandering
The following signs may indicate that your loved one is at risk of wandering:
Disorientation. They may have difficulty finding common areas of their home. They may even ask to 'go home' while standing in their own living room.
Confusion. Many dementia sufferers get confused about the time period they are in. You may hear them asking about deceased relatives or talking about a past career situation as if it is happening in the present.
Slowed Functions. Seniors who are at risk of wandering tend to have trouble completing basic tasks.
Anxiety. When in a crowded setting, they may become scared or agitated. You may notice restless body language.
Kind and Loving Dementia Care Services for Santa Monica Area Seniors
The comfort and familiarity of home cannot be replaced. With our help, you can keep your loved one in their own residence and avoid the difficult move to a care facility. We are proud to offer the flexible scheduling and customized support your family needs to make this possible. Our service area includes:
Santa Monica
Marina del Rey
Bel Air
Venice
and the surrounding areas
To schedule your free initial care consultation and get started with our dementia care, contact Visiting Angels Santa Monica today.