Five Ways to Manage Your Medication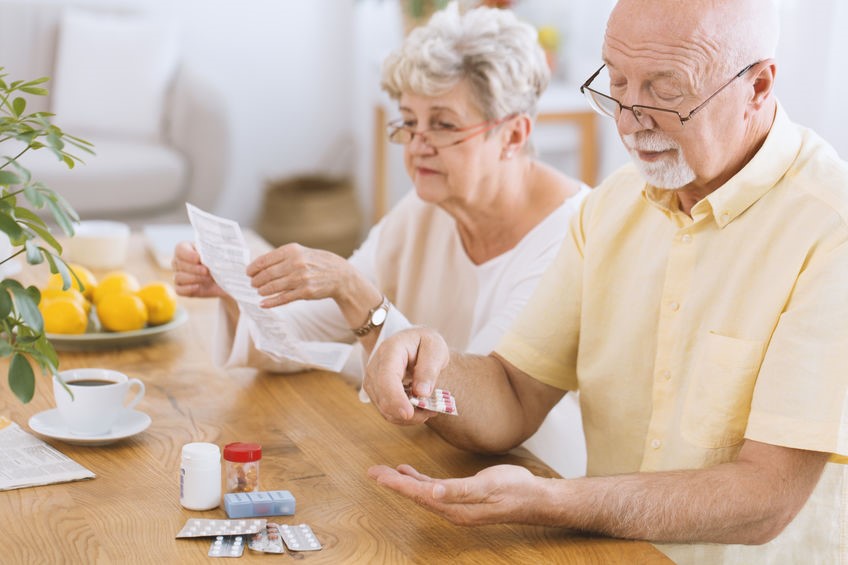 With age comes the fact that many seniors will need to manage chronic health conditions via modern medicine. In fact, according to the Washington Post, researches report that approximately 25% of seniors ages 65 to 69 take at least five prescription drugs in order to manage their health. Researchers approximate that this number jumps to 46% for seniors between the ages of 70 and 79. These percentages don't take into account over-the-counter medication or other vitamins and supplements that most older adults take on a daily basis.
What's alarming is the little attention polypharmacy has gained in the public eye. Most of us are aware of the opioid crisis, yet most of us don't think twice about the fact that most seniors are taking multiple prescription medications on an ongoing basis. As many as 55% of seniors are taking their medications inconsistently and incorrectly, according to a study published by the National Institutes of Health. Mismanaged medications can lead to a variety of complications, from cognitive impairment to fatality. It's clear that taking prescription and over-the-counter medication, as well as other vitamins and supplements needs to be treated with great caution. Here are five tips for seniors to manage their medication, these tips just might save your life.
Talk to Your Doctor
The first tip to manage your medication is to make an appointment with your primary care physician to discuss all of your medications. Bring every medication, prescription, over the counter, and vitamins or supplements that you take on a regular basis with you to this appointment. Ask your doctor to review your medications and ask if there are any that can be eliminated. Then ask about specific instructions about each medication you're taking—which ones need to be taken on an empty stomach, which ones should you take at night, in the morning, which medications should be you avoid taking together?
Make & Maintain a Medication List
Now that you have your medications sorted out, ask your doctor for a printout of your medications or write it down. Note all special instructions that the doctor suggested so that you have a point of reference when you go home. Then, maintain this medication list regularly. Bring it to each new doctor appointment. Update it at the doctor's office. Keep it in a prominent location in your home, where you'll see it every day and remember to review it.
Fill a Pill Box
Many seniors use pill boxes on a regular basis to help them manage their medications. However, some seniors use them inaccurately, placing all of their medication for the day in each day of the week. Instead of mixing up your medication, purchase the correct pill box system that works for your medication needs. If you have medication that you take in the morning and in the evening, find a pill box with AM/PM options. If you have medication that you need to take on an empty stomach, put those pills in a separate pill box and label it "No food." Consider purchasing a smart pill box that signals your smartphone when it's not opened after a certain period of time or lights up when it's time for your next dose.
Stick to One Pharmacy
Another tip to manage your medications is to stick to one pharmacy to fill all your prescription medications. The pharmacy will have on record your medications and will be able to alert your physician if there's an adverse drug interaction that they may have missed. They'll also get to know you over time and can help you sort out your medications if you still have any questions.
Enlist Help
Finally, ask someone to help you manage your medication. Your helper can double check to make sure you filled your pill box accurately, or even take care of that for you. They can call you daily to make sure you've taken your medication on time. Take them with you to your doctor's appointment to discuss your medication plan. That way, you have a second set of eyes and ears in case you missed something. Whether it's your spouse, your adult children, or close friend, everyone needs someone to help them from time to time.
Speaking of help, Visiting Angels Sarasota is here to help you manage your medications. Whether you're a senior living alone or a long-distance adult child who's concerned about your aging parents' ability to manage their medications, we are here and able to help. We'll connect you with a local pharmacy that pre-packages your medication according to your doctor's orders. Then, our caregiver can remind you to take your medication and keep in touch with your family. We address your care needs effectively, customizing our care based on your individual needs. Please contact our office today by calling 941-952-5800, and learn more about how we can make a difference in your life.