Keep Loneliness at Bay for Seniors Who Live Alone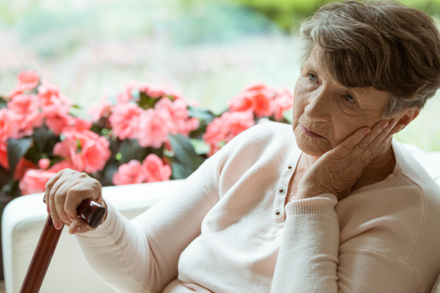 Now that the holiday season is behind us, many Americans look forward to returning to their usual routine. Too many holiday parties and holiday treats can leave even the jolliest person ready for a less busy schedule, not to mention a fewer less calories. Yet, as the holiday decorations are slowly packed away and the pace of life slows, many seniors are susceptible to the post-holiday blues. This is especially true for seniors that live alone and don't have a strong social support system. Once their family returns home or settles into their usual routine, the lonely senior can feel neglected. Seniors that live alone and who don't socialize regularly are at greater risk of mental illness and physical decline than their more social counterparts. However, with a little planning and some initiative, loneliness can be overcome. Here are a few tips to keep loneliness at bay for seniors who live alone.
Connect with Other Seniors
In order to keep loneliness at bay, seniors need to prioritize their social well-being. Sitting alone at home all week long isn't good for anyone. Instead of settling into another month of idleness, resolve to connect more with other seniors over the next month. Check out the local senior center for fun activities that you can join. Participate in a senior book club at the library. Meet up with other senior neighbors at a coffee shop. Join the senior group at church. No matter where the senior club meets, you'll find other seniors in similar shoes. They are just as lonely as you and need your friendship and companionship just as much as you need theirs. Take a risk and say "yes" to one senior group activity this month, and you'll be on the right track to keeping loneliness at bay.
Leave the House
Seniors that prefer a less socially filled calendar still need to prioritize their social well-being. Joining a new senior group isn't for everyone, although it's highly beneficial. If you aren't much of a joiner, or you tried a new group and it didn't gel for you, commit to leaving the house a few times a week. Just getting out of your home and being in a store with other people can boost your mood. Work up the courage to say "hello" to a stranger, or at least make small talk with the clerk. Make appointments with your favorite barber or hair stylist and socialize with them during your next visit. Go for a short walk around your neighborhood, and time it for when other neighbors are out and about. Linger at a coffee shop or your favorite hobby store. Leaving the house is sometimes the biggest challenge for a senior that lives alone. Once they leave, they're more likely to connect with others or participate in a group activity.
Liven Up the Home
Consider adopting a pet to help keep loneliness at bay. While this suggestion may not be for every senior, it's a great way to keep loneliness at bay for seniors who can care for a pet. Cats make great pets for older adults as they are more independent and don't require much energy. Allergic to pets? Try setting up an aquarium of fish with a filter system. Plants too are a great way to bring more life into a lonely senior's home. Look for plants that don't require a lot of care, such as African violets or spider plants.
Send Love through the Mail
If you know a senior that lives alone, take time to send them notes of encouragement through the mail. Email and social media as replaced the art of writing letters. Seniors that aren't tech savvy are left out of the most recent family news or latest photo posted of their loved ones. Those seniors that live alone and aren't connected through technology are even more left out of the conversation. Keep them in the loop by sending them notes throughout the year. If you don't have a lot of time, download an app that lets you send a postcard to your aging loved one, using photos right from your phone.
Talk with the Doctor
Finally, don't neglect your social concerns or feelings of loneliness during your next doctor's appointment. Routine doctor appointments help address health problems that may lead to loneliness. For example, seniors with untreated hearing loss or incontinence issues may decline usual social dates because they have difficulty keeping up with conversation or are afraid of embarrassing themselves while out. Talking with the doctor and finding ways to treat the medical concern can remove barriers that would otherwise limit your social life.
If you are a senior that lives alone, or know of a senior that lives alone, and could use more support to enhance your quality of life, consider Visiting Angels Sarasota. We are more than just in-home care for seniors. Our senior home care services help keep loneliness at bay for many of our clients. Our companion care services are perfect for the lonely senior. More than just a social call or friendly visit, our compassionate caregivers provide a relationship of encouragement and support to seniors who may feel isolated or lonely at home. We believe that seniors need to feel a part of a social community, and our caregivers are happy to become a part of theirs. We can even get you out of your home and help you connect with the external community, assist you with errands, or accompany you to your next appointment. Contact our office today to take the first steps in building a relationship that will make everyone feel good.