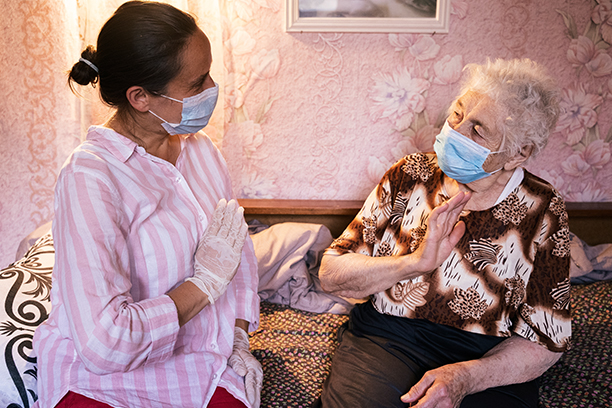 Preventing Falls in Sarasota with Companion Care
As your loved ones grow older, one issue to consider is fall prevention. Falls are very common for seniors and can be painful, seriously debilitating, and costly. They can result in injury or even worse. Sadly, falls are one of the leading causes of death in the United States, and 75% of them occur to our aging population. Help your loved one to move around safely in their own home. With regular companion care and other prevention techniques, your family member will be able to move around more easily in their own home. At Visiting Angels® Sarasota, we provide companion care referrals to families in Bradenton, Sarasota, Long Boat Key, and Siesta Key.
Tips for Fall Prevention in Sarasota
You may be wondering: what can you do to help prevent your loved one from falling? While one solution in Sarasota is companion care, here are some other tips for preventing falls:
Install mobility support. Railings around your loved one's bed can help to ensure that they don't fall out of bed at night. Railings or other mobility support around staircases and even regular walls in their home can help, too. Mobility aids in the shower and around the toilet can prevent falls in the bathroom.
Remove clutter and other obstacles. A clear, obstacle-free path through your loved one's home is essential. Walk around the rooms of their home, removing clutter from the floors and making sure they don't have to constantly navigate around furniture to get to the bathroom, kitchen, or bedroom.
Choose assistive devices. A walker or cane can help your loved one move around inside of their home and outside of it. Consider choosing one of these devices to help your loved one move with ease.
How Sarasota Companion Care Can Help
When it comes to fall prevention, there's an easier way. Consistent companion care in Sarasota can ensure your loved one has mobility support on-hand. Their companion won't simply help them move around the home and neighborhood. They can also complete tasks such as grocery shopping or errand-running, so your loved one won't have to worry. A caregiver can provide simple housekeeping support, making sure your loved one's home is free from clutter and obstacles. They can also monitor your family member's situation, and let you know if their condition deteriorates.
Let's help your loved one live with ease, through companion care in Sarasota. Contact Visiting Angels Sarasota today to learn more about our referrals.
Serving Sarasota, Siesta Key, St Armand's Key & the Surrounding Areas
Visiting Angels
SARASOTA, FL
950 S Tamiami Trail #205
Sarasota, FL 34236
Phone: 941-952-5800
NR30211676