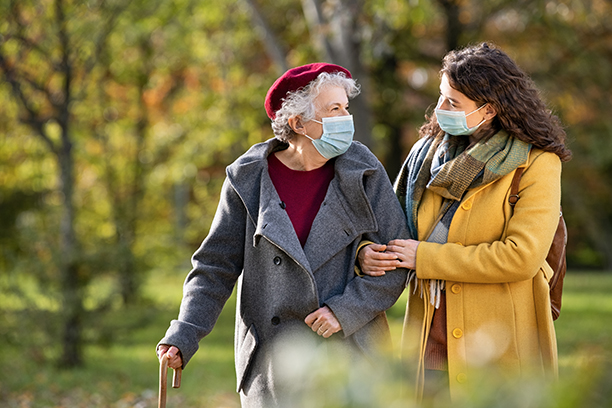 Fall Prevention Tips with Sarasota's In-Home Care
We all want to protect our loved ones for as long as we can. As our loved ones age, a serious danger they might face is the risk of falling. For seniors, falls can be dangerous, costly, and can even threaten their lives. At Visiting Angels Sarasota, we know that millions of seniors and their families face the devastating impacts of falls every day. That's one of the reasons we provide in-home care referrals for families in Sarasota, Bradenton, Siesta Key, and Long Boat Key. It's one way that you can be sure your loved one has support whenever they need it.
In-Home Care Tips For Preventing Falls
If you're concerned about preventing your loved one from falling, here are some immediate in-home care tips from Visiting Angels Sarasota:
Make sure their home is free from floor clutter and other tripping hazards. Clear the floor of wires, any small objects, and appliances like vacuum cleaners and fans. Make sure there's a simple, easy path through each room without stumbling into any furniture.
Check their footwear. Socks and slippers don't offer traction, and will make it easier for your loved one to slip or slide on their floors. Try finding them comfortable shoes with a good rubber tread, so they'll always have a solid grip as they walk.
Think about mobility support. It might be helpful for your loved one to have a walker or cane for moving around the home or outside. Think about installing railings for their beds and in the bathroom, two places where falls commonly occur.
Choosing Sarasota's In-Home Care
A dedicated in-home care specialist in Sarasota is another way you can help your loved one stay safe. Here are some ways in-home care specialists can help keep your loved one more secure:
They can check in on your loved one regularly. Whether your loved one's caregiver offers part-time, full-time, or 24-hour care, they can check in on your loved one to make sure they're mobile and healthy.
They can monitor your loved one's well-being. If your loved one's mobility is declining rapidly, there may be an underlying health issue. If your loved one's caregiver notices anything strange, they can let you know immediately.
They can be there if anything happens. For seniors who live alone, falls often mean that it can take days for someone to find out they're injured. If your loved one slips, their caregiver can immediately call for help.
Keep your loved one healthy, happy, and fall-free. To learn more about our in-home care referrals, contact Visiting Angels Sarasota today.
Serving Sarasota, Siesta Key, St Armand's Key & the Surrounding Areas
Visiting Angels
SARASOTA, FL
950 S Tamiami Trail #205
Sarasota, FL 34236
Phone: 941-952-5800
NR30211676