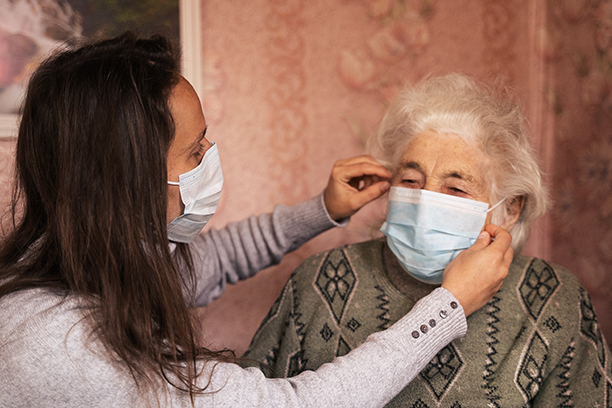 How Our Sarasota Home Care Providers Can Help 
Your senior relative is losing weight, they're not showering, and their home is a mess. On top of that, you worry about their safety and health each day. Sound familiar? At Visiting Angels® Sarasota, it's a situation we've seen time and again. Your loved one is aging and their health is declining. As a result, caring for their own physical needs and their household is simply too much. But the good news is that our home care providers – available to seniors across Sarasota, FL – can help.
At Visiting Angels Sarasota, we work with a robust network of professional and compassionate non-medical home care providers. Depending on your loved one's condition and needs, we can connect them with caregivers who can help in a variety of areas, such as with:
Nutrition. Meal planning and preparation can be overwhelming for many seniors. But Visiting Angels Sarasota is in contact with home care providers that can take over this whole task, start to finish. They can monitor your loved one's diet, plan nutritious meals, shop for groceries, cook, and even share meals together.
Bathing and hygiene. Getting in and out of the tub or shower is a safety challenge for many seniors. But with one of our compassionate and respectful professionals, your loved one can gain the support they need in a dignified way. Visiting Angels Sarasota can refer home care providers that can also help with areas including dressing, grooming, hygiene, and using the restroom.
Doctor and therapy appointments. Getting to and from doctor and therapy appointments can be hard to do for your aging relative – but it's a must to maintain their well-being. And we can help with the process by providing appointment reminders, transportation, and assistance with mobility.
Medication reminders. Taking the right medications at the right times of day is vital for your loved one to stay in good health. But sometimes, it's easy to forget. Our network of home care providers from Visiting Angels Sarasota can offer gentle reminders in this area to ensure your family member remains on schedule.
Joyful companionship. We understand the threat of loneliness and depression can be just as serious as other health concerns. That's why, besides meeting your loved one's physical needs, Visiting Angels Sarasota can refer a home care provider that offers social and emotional support, too.
Get Home Care Provider Referrals from Visiting Angels Sarasota
To learn more about the home care providers we work with – and how they can help your loved one to feel better and improve their quality of life – call our Sarasota office today. In addition to Sarasota, FL, we also offer access to home care providers in Bradenton, Long Boat Key, Siesta Key, and many other nearby communities.
Serving Sarasota, Siesta Key, St Armand's Key & the Surrounding Areas
Visiting Angels
SARASOTA, FL
5957 Cattlemen Ln
Sarasota, FL 34232
Phone: 941-952-5800
NR30211676