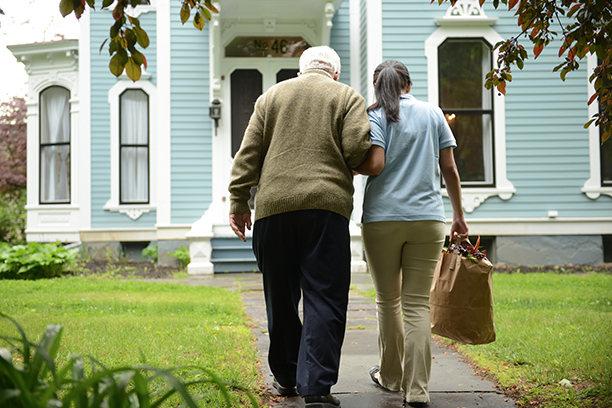 Restoring Hope Through In Home Senior Care
When a senior family member starts to show signs of decline, finding hope can become increasingly difficult — both for them and for other family members. As Sarasota's leading provider of in home senior care referrals, we understand how difficult these times can be and how bleak they sometimes feel. But we also know that, with the right support, hope can often be restored in these situations.
At Visiting Angels® Sarasota, we've seen how big a difference in home senior care services can make in seniors' lives. With the support of compassionate in home senior care, we've watched as seniors in Sarasota have rediscovered comfort, joy, and quality of life.
Caring Towards a Better Tomorrow
When families find in home senior care services through Visiting Angels Sarasota, they are often surprised to discover how impactful care can be. Finding the right caregiver can do wonders for your loved one's comfort, wellbeing, and happiness. It's why the team at Visiting Angels Sarasota works tirelessly to find the perfect match for each client.
In home senior care can restore hope in a number of ways for senior adults living in Sarasota. Seniors who struggle with chronic pain, limited mobility, or declining health often believe that their quality of life is certain to worsen with time. But with support from the right caregiver, many of these seniors find it easier to cope with age-related physical difficulties.
Life also becomes more livable. With a caregiver around, someone is there to perform or help with tasks that seniors find difficult or dangerous. These can range from cooking meals and running errands, to personal activities, like dressing and bathing. Without someone to lend a helping hand with these activities, seniors struggle through them on their own or fall into self-neglect. In either case, comfort and quality of life suffer, and seniors are put at higher risk of injury.
Seniors in Sarasota who choose in home senior care also benefit from the emotional bond they develop with their caregivers. In home senior care can be especially valuable to seniors who live alone in Sarasota, many of whom are at risk of emotional and physical health concerns due to senior isolation. But even seniors who live with spouses or family will benefit from having someone they can rely on for conversation, compassion, and companionship.
In Home Senior Care in Sarasota
Visiting Angels Sarasota provides in home senior care referrals to seniors and families throughout the Sarasota area, including Bradenton, Long Boat Key, and Siesta Key. If you have an older loved one who you believe could benefit from in home care, we can match your loved one with a compassionate, skilled caregiver to help make your loved one's life more comfortable and livable.
To schedule a free in home senior care assessment for your loved one, contact Visiting Angels Sarasota today.
Serving Sarasota, Siesta Key, St Armand's Key & the Surrounding Areas
Visiting Angels
SARASOTA, FL
5957 Cattlemen Ln
Sarasota, FL 34232
Phone: 941-952-5800
NR30211676