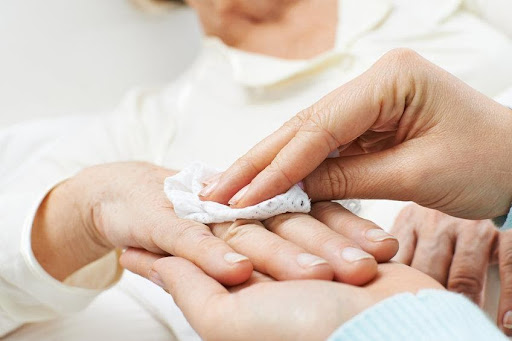 Best Practices: Handwashing 101 for Seniors and Family Caregivers
According to a study by the U.S. Department of Agriculture, consumers are failing to wash their hands correctly 97 percent of the time. Other studies support improper handwashing techniques by the majority of Americans. Researchers at Michigan State discovered that less than 70 percent of public restroom users used soap, and ten percent didn't bother to wash their hands at all. Although the COVID-19 pandemic initially improved our handwashing techniques, nearly two years later, most of us have reverted to our old handwashing habits.
Proper handwashing is one of the best ways to remove germs, avoid illness, and prevent germs from spreading to others. It's important for both seniors and their family caregivers to prioritize proper handwashing to protect one another. Diligent hand washing can significantly impact an older adult's health, especially during the flu season and as COVID continues to affect daily life.
December celebrates National Handwashing Awareness Week. Brush up on your handwashing techniques by following the tips below.
Follow the Five Steps
The Centers for Disease Control and Prevention advises everyone to follow five steps to clean your hands effectively. First, wet your hands with water. The temperature does not matter. Second, lather your hands with soap. Soap should be applied to both the front and back of your hands, between your fingers and underneath your nails. The third step involves scrubbing your hands for 20 seconds. You can count to 20, set a timer, or hum "happy Birthday" twice. Step four is to rinse your hands under clean, running water. The last step is to dry your hands with a clean towel or let them air dry.
When to Wash Your Hands
Handwashing isn't limited to just after using the toilet. It's essential for seniors and family caregivers to wash their hands frequently throughout the day. Be sure to wash your hands before, during, and after preparing food (especially while handling raw meat). Family caregivers, wash your hands before and after assisting your loved one with personal care tasks or medication management. Always wash your hands before and after treating a cut or wound, as well as after blowing your nose, coughing, or sneezing. Develop the habit of washing your hands immediately after returning home from running errands or other activities. You should also wash your hands after handling the trash, caring for pets, or touching animals.
What About Hand Sanitizer?
Hand sanitizers, although convenient, can cause great confusion for family caregivers. Washing hands with soap and water continues to be the best option to remove germs and chemicals. However, hand sanitizers that contain at least 60 percent alcohol can disinfect in a pinch. If you're out and about and don't have access to a sink with soap, using hand sanitizer can help keep your hands clean. It's important to wash your hands with soap and water as soon as possible to ensure you remove all germs and chemicals. Hand sanitizers shouldn't be used in place of soap and water, especially when family caregivers are assisting with personal care in their aging loved one's home where they have access to a sink and soap.
If you are a family caregiver looking for more help with your aging loved one, look no further than Visiting Angels Sarasota. We help arrange a self-directed model of senior care by referring thoroughly vetted, trained and experienced caregivers. The caregivers we refer can provide one-on-one non-medical care and assistance to seniors who wish to remain in their own homes. Our approach to home care allows our clients to be involved in every aspect of tier care, including creating their own care plan, selecting their own caregiver, and choosing the type of care they receive. To learn more, please get in touch with us today by calling 941-952-5800.